The Ultimate Christmas Cheat-Eater's Healthy Survival Guide (Part 3)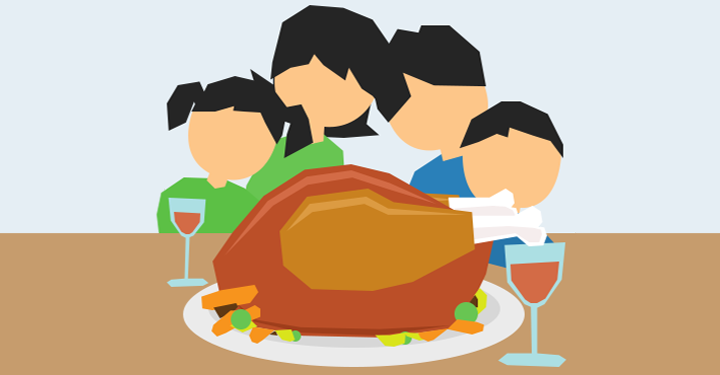 Cheat-eating has been commonplace ever since diets have been trending. By taking cheat-eating into something more simple; something that could let you enjoy the holidays in a healthier way, we have explored some ways on how to develop a habit and how to tame one's appetite when temptations are nearly irresistible. As a complement, there are also cheat-spending habits for the holidays when the line between reasonable offers and hyped-ones is in a blur.
By following through one's habits, rewards are a great way of reinforcing one's desired changes in behaviour especially if it's for one's health or finances. Here are some ways you could reward yourself for successfully cheat-eating or cheat-spending the holiday season (and perhaps get that New Year's Resolution rolling).

Your Healthy Eating Survival Guide
9. Travel
Exploring new places and letting the experience of a different environment drench in your senses gives you a refreshing perspective on all aspects of your life. It also revitalizes your energy. In fact, over 89% of travellers had significant drops in stress levels based on a study. Whether you're taking pictures or not, travelling is a priceless experience that would surely add up to a lifetime of memories.

8. Sleep-cation.
You've been through the sleepless nights of work and through the sleepless nights of fun for the holiday season. Instead of bridging in the sleepless marathon of the holidays through the start of the year, why not gain your momentum and hit the sack? Aside from sleep helping you build new neural connections, getting back your proper sleeping habit before the busy year starts saves you more energy and gives you more productivity in the long run.

7. Cook your all-time favourite.
If cooking isn't your expertise, then learning it would be an invaluable investment. Learning to cook your all-time comfort food saves you time and brings you the convenience of having it on the cheap while also having it crafted to the desires of your taste buds.
Having the power to feed yourself also increases your self-satisfaction. Once you get the hang of cooking, exploring other dishes would be an exciting adventure towards the other corners of your gustatory paradise.

6. Have a makeover.
A makeover doesn't have to be a visit to the salon. It could be a change in your style of clothing or a rearrangement in your sleeping pad and working space. Revamping parts of your lifestyle breaks the monotony and increases your motivation for self-improvement. Aside from rewarding yourself for completing the holidays without splurging, getting a makeover for yourself or your environment is a milestone you could be proud of later on.

5. Make art.

Draw. Write. Create a funny social media account. Sing. Dance. Direct a video with your smartphone. Whatever medium fulfils your self-expression is worth giving a day or two to work on. Perhaps you could start a project you could complete during the weekends and work on it with your friends.
Producing art is worthwhile and could even lead to other nicer things. For the moment, it'll keep you inspired and pump up your creative juices for the rest of the week.


4. Learn a new sport or be one with the local gym.
Have you ever fantasized on getting through the streets in a sleek, ninja-like manner? You have Parkour. Or get in touch with your inner Zen? You have yoga. Entering a new activity in your life might seem particularly tricky, but following through is easy especially if you're joining a local community.
Access is easy as searching through facebook groups or pages and asking questions is a good way to start. While earning those hard skills is a bang for the buck, widening your social circle is a real plus.

3. Make a clear-out sale.
If you've chosen to have a makeover for your environment, why not hustle your way through it? Set aside a box where you could put things you no longer use and make them presentable for buying. Organizing a local garage sale for your items or posting it online might take some time but the buck earned after would always be a good reminder of your accomplishment.

2. Brag. Share your progress.
Have you maintained your weight or followed through with the healthy cheat-eating habit? Congratulate yourself. Share your first victory in social media and have the bragging rights to inspire people to do the same.
Being able to realize your goals and lead others, even in the form of status updates is not only change. It's also progress.

1. Have one real cheat-day with loved ones.
Take this as your graduation day for improving your health and movement towards wellness. Host your own party with the food you cooked or eat-out with your loved ones. Let this be a reminder of the successful mission you've completed this holiday season.
Have a mental note that this is the cheat-day and the only exception to the rule. Regardless of the positive habit you have formed for the rest of your days, go ahead and enjoy this exceptional celebration. You deserve it.
Like investment on one's finances, rewards are better when amplified. Experiencing new things give great support to the habit you've recently formed. A continuous pursuit towards self-improvement always results into progress however minimal it is at the start. This pursuit makes a person a better player in the game of life.
Here's a toast towards unlocking one of the paths to healthy cheat-eating and to the science of habit.