The Ultimate Christmas Cheat-Eater's Healthy Survival Guide (Part 2)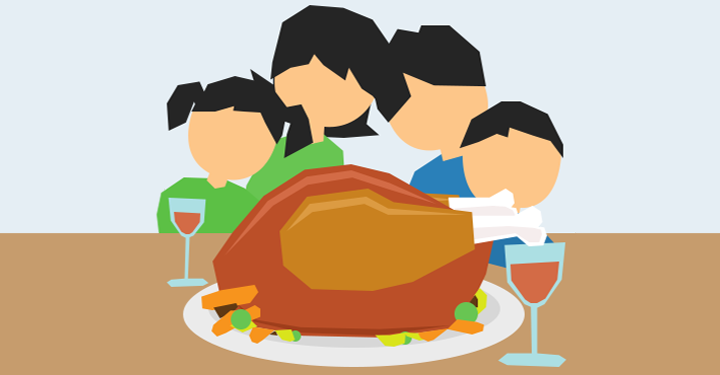 During the holidays, being caught up in the annual hype of losing one's eating restrictions is a common guilty pleasure. In The Ultimate Christmas Cheat-Eater's Healthy Survival Guide (Part 1), we have learned that over 50% of one's annual weight gain is built up during the 6-week holiday season according to the Human Nutrition Research Centre in the US. However balancing your raw appetite and self-control might seem impossible, a compromise could still be achieved. Prevention of getting over 50% of that added annual weight would always be easier than working your way to lose it in the following months. To have a successful resolution, habit-forming tasks such as daily routines can be taken up before, during, and after the holidays. This also rings true on how you spend your money during the holidays. This transforms your New Year's resolution into a more realistic and doable goal and could even lead to prevention of gaining future weight once the habit is formed.
Before The Party
Establish your mindset.
Celebrating the season with your loved ones is one of the rewards of Christmas. Home-cooked meals and fastfood in party packages adds more joy to the occasion but pale in comparison to the main reason for the party even if your family and friends would humour it is so. Loosening up and enjoying the presence of your friends and family matters more than anything. Prepare in mind other activities you could do with your loved ones aside from sitting before the dinner table such as owning up the karaoke, dancing, or even overloading your phone with the family selfies.
Have enough sleep.
Believe it or not, getting only a few hours of sleep makes you eat an extra 300 calories and choose higher-fat, higher calorie foods to chomp on during the day based on a recent study. Lack of sleep results to women feeling less full after eating and men having an increase in appetite. While regaining the lost hours of sleep during the workweek is good and having at least 7 hours of full sleep every time is better. You'll be saving yourself from extra calories and unhealthy food choices.
Have snacks before the heavy feast.
Eating on protein-rich food such as yoghurt or cheese 30 minutes up to an hour before the feast helps you feel full for a longer time. You could also eat nuts, salads, oatmeal , or corn before taking up the heavy meals. Having a stomach that's partly full helps you manage your appetite at the big feast better.
Also, remember the water.
Drinking at least a glass or two of water thirty minutes or an hour before the feast also eases up your stomach for dining. Do not go overboard though; doing so would dilute the acids in your stomach needed for digesting food.
During The Party
Strategize your location.

Position yourself far from the buffet table. This makes you less likely to return and more likely switch over to other activities happening in the party and helps you focus more on eating your meal. Eat somewhere quiet with calmer lights.
Based on a study conducted by Cornell professor, Brian Wansink, PhD, eating at a place with less noise and distracting lights makes you consume less food, eat more slowly, and even enjoy the meal better.
Stay in a smaller group. According to a study, eating with 6 or more people increases your food intake by 76%, most likely for the reason of the meals taking too long to finish. If you could not avoid big groups, be the last person to start eating and the second one to stop.
Choose your utensils wisely.
Have a smaller plate and a slimmer but taller drinking glass. Downsizing your plate and slimming up your glass makes it seem that both are full and tricks your brain into thinking you're eating and drinking more even if you're not.
Upsize your spoon and fork. On the other hand, eating with a bigger-sized spoon and fork and seeing yourself take up greater portions from the plate convinces the brain to think you have eaten enough.
The Buffet
Stay by the end of the line. You'll end up having enough time to wait for the food to be set and plan on what you could eat later on instead of scrambling for options.
Manage your proportions. Filling half of your plate with high-fibre or high-water foods stabilizes your blood sugar and will make you crave for less on the others since you'd end up consuming more on what you eat first.
Minimize your choices. Although returning to the table is not discouraged, having only 2-3 items at most in your plate at a time keeps the variety on the low and lessens your appetite. Prioritizing the food you get to eat on occasion and holding out for regular ones maximizes your feast experience.
The Table
Keep a fruit or vegetable in sight, even if you might not eat it. It's called the priming effect. By just being reminded that a healthier food exists, your subconscious is apt to choose healthier meals.
Visualize eating unhealthy food. Ghrelin, a hormone responsible for appetite, does not rely on what you eat but what you think you have taken up. Visualizing unhealthy food decreases Ghrelin levels and thereby lowers your appetite.
Keep a hand busy. By keeping one hand busy with a phone or a handkerchief, you are less likely to reach out for more food.
Mind what you eat. Taking each bite slowly lets you savour your palate and gives you enough time to socialize with your loved ones.
Keep a visual evidence of what you've eaten So you won't forget. Reminding yourself what you've eaten keeps you less tempted from eating more.
Have a "no" statement ready when you're almost full and not when you're already stuffed. Even if you're only about 80% full, giving time for your brain and stomach to catch up on what you've taken would eventually lead it to "feel" full after a couple of minutes. For the meantime, have some lines ready such as "This food is delicious but I'll pass on a second take." or "It would be nice but I'm full."
Alcohol
Eat before you drink. Eating food rich in fiber and protein before drinking stabilizes your blood sugar. Eat less while drinking, your digestion is reduced by alcohol intake.
Alternate water or iced tea with alcohol. Alcoholic drinks tend to have a high-caloric count. Drinking water or iced tea in place of alcohol reduces your alcohol intake. Since alcohol is a diuretic, it increases the flow of urine (excess water). Having a constant intake of water or iced tea keeps you hydrated while drinking.
Ice, ice, baby. Filling your glass with mostly ice is a good substitute to water intake. Alcohol reduces your inhibition and also increases vulnerability to over-eating.
More water and food rich in fiber and protein after. Drinking water to rehydrate yourself before you sleep and taking a snack rich in fiber and protein such as oatmeal will help you replenish the nutrients you've lost while drinking.
After The Feast
Chew mint. It will help you curb the nausea after having that sumptuous meal.
Share your tempting leftovers. Aside from this being our customary tradition, doing so will help you avoid eating most of it the morning after.
Engage yourself in other activities. The holiday season is filled with events you could cherish with your loved ones. Make the most out of it.
Do it with your loved ones. Nothing beats encouragement from a great support system and improving on to wellness and moving towards better health. In Part 3, we have a list of treats you could indulge in for accomplishing the healthy cheat-eating habit.