Wonderful Places You Can Take Your Date When You're on a Budget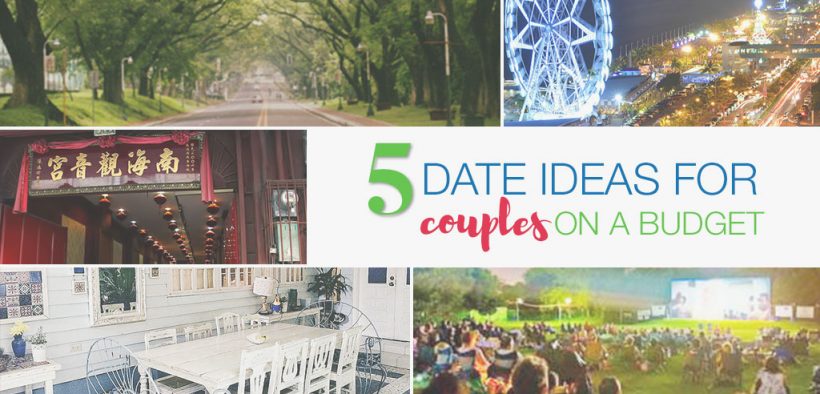 A couple's first few months, they say, are the sweetest. They call it the honeymoon stage. During this stage, the couple is practically joined at the hips and all over each other. This is the stage where just a whiff of her shampoo or the sight of his face is enough to send all the butterflies in your tummy in a state of frenzy. In these months, you see the world through rose-colored glasses, and nothing else matters apart from your lover. Against the intensity of your love, everything else paled in comparison.
But, as much as we'd all like to stay in this euphoric stupor, the truth is, everything eventually wanes. The conversations become shorter, the good morning messages stop coming, the declarations of undying love suddenly feel forced, and trysts become less exciting. No, it doesn't mean that the love is gone. It could mean, however, that you have grown a bit accustomed to each other, and that you probably need something that can reinforce your relationship.
Rediscovering love and rekindling the fire of passion need not burn a hole in your pocket. PawnHero lists five date ideas for couples on a budget:
For the couple who loves to discover history: Binondo
Binondo offers budget-friendly food and adventure in equal proportions. As the first Chinatown in the world, Binondo offers visitors its rich history and an entirely different adventure. You and your beau can immense yourselves in a maze of once-glorious architecture, numerous retail shops, and traditional, family-run enterprises. The food scene is alive, and along every street are eateries that serve comfort food that will remind you vaguely of home and childhood memories.
Things to try: Visit Santa Cruz Church, Binondo Church, and the Chinese temples. Try the food at Sincerity Café and Restaurant, Dong Bei Dumpling, and The Original SaLido Restaurant. Don't forget to grab some pasalubong from Shanghai Fried Siopao, Eng Bee Tin, and Ho-land Chinese Delicacies.


Photo source

For the spontaneous, nature-loving couple: Nuvali
If you and your honey are looking for an escape from all the hustle and bustle of city living, Nuvali is the place to go. What makes Nuvali an especially appealing destination is the way it integrates amenities that allow people and nature to flourish harmoniously. There are also various restaurants in the area, such as Army Navy Burger + Burrito, Max's, Uncle Cheffy, Italianni's, and Conti's, among other eats. You may also choose to bring your own baon and eat picnic style.
Things to try: Entertain yourselves and calm your senses by feeding koi fishes or going birdwatching. For 60 pesos an hour, you can rent a mountain bike and enjoy a ride around the flowy single track, or if you're an adventurous couple, you can try exploring their extensive off-road trails. Sometimes, they hold special movie nights outdoors, free of charge. The Night Sky Cinema features a huge screen, and excellent sound system, and an awesome collection of movies, for a unique movie date.

For the romantic couple: MOA
When we say romantic, Mall of Asia might not be the first thing that comes to our minds. But really, the MOA grounds offer many romantic date options, and all you need is a bit of diskarte to pull it off. You would want to go there in the late afternoon or at night, if you and your honey are looking to spend a quiet, relaxing moment, as MOA offers many venues for watching magical city lights. The annual Pyrolympics Competition is also held here during March, where pyrotechnic experts from all over the world convene to paint the sky.
Things to try: For less than 1,000 pesos, you can treat your beau to dinner in a restaurant with a view. Highlands Prime Steakhouse, located at the second floor of the Entertainment Mall in the North Wing of SM Mall of Asia offers meals starting at 300 pesos. After your dinner, you can both enjoy a 360-degree view of MOA and the surrounding areas with a ride in the MOA Eye. This a 180-feet tall ferris wheel that features 36 air-conditioned gondolas where you can watch the fireworks or the famous Manila Bay sunset. There are also plenty of other things that you can try at the Seaside Boulevard.

For the chill couple: UP Shopping Center
If you're up for an old school, low maintenance date, load up your picnic basket, pack your blanket, and head to the University of the Philippines Diliman. The University grounds are lined with eateries that will satisfy your craving for street food. If you brought your own baon, you may share them under the shade of one of the trees in the sunken garden. Since there's no WiFi, you can spend the entire time just talking and getting to know each other.
Things to try: Get your fill of isaw at Mang Larry's in front of the UP College of Law. The tapsilog at Rodic's in the Shopping Area is also a must-try, and since you're already in the area, you might as well try other stuff. They offer all kinds of merienda, including sweet corn, banana cue, turon, karioka, fish ball, kikiam, kwek kwek, and plenty of other snacks reminiscent of your childhood. If you are book lovers, you'll be glad to know that there's a book shop behind the Shopping Center that offers plenty of interesting titles at a much lesser price.

For the couple celebrating something special: Rustic Mornings by Isabelo
So, it's your monthsary and you're looking to take your partner out for dinner. However, the heavy Metro Manila traffic won't let you take her anywhere nice, if you wish to arrive right in time for dinner time. How about you ask her to breakfast instead? Rustic Mornings by Isabelo is a gem that sits in the homey locale of Marikina. True to its name, heartwarming breakfast food is served in the midst of charming wood furniture and beautiful mismatched knickknacks.
Things to try: You can choose to dine inside or outside. Most customers usually prefer dining in the artsy garden set-up, but if you choose to eat indoors, an artistic blue and white interior awaits you. Make sure to look around first before settling on a table, as the place offers many secret gazebos and spots. Tip: if you are looking to pop the question, Rusting Mornings is the perfect place. It offers a romantic ambience, and its many quirky, vintage displays make the place picturesque.



The secret to a lasting relationship isn't always grand gestures or expensive gifts (although these might help.) Ultimately, what makes a relationship stand the test of time, pressure, or even distance, is our sincere effort to make our partners feel loved, treasured, and appreciated.
Take BAE Somewhere Special
Is your budget (or the lack thereof) stopping you from giving your darling a little gift or from taking your beau out on a nice date? Turn to PawnHero for a quick loan. We take your standard pawnshop fare and go beyond your average pawnshop by accepting luxury bags, watches, and even valuable household items such as paintings and more.
We take your pawning experience to a whole new level by offering the PawnHero app. Now, you can pawn your items in the comfort of your own home. Download the app on Google Play or learn more by visiting www.pawnhero.ph