Awesome Places You Can Take Your Date When You're on a Budget – Holiday Edition!
It's the holiday season and that means there's a lot of time for couples to spend together and have more dates. To avoid fighting over where to go (and avoid the general break-up season that coincides with the holidays), here's a list of five places for different types of couples to go on dates… all without burning through your 13th month pay because we all know you have other responsibilities to pay for, right?
For the couple who loves adventure: Mt. Daraitan, Tanay, Rizal
The later "-ber" months are usually colder, not as sunny, and not as rainy as other times of the year, making it the a great time for adventure seeking couples to go on adventure hikes! For an affordable and relatively easy hike (roughly around 4 or 5 out of 10 in a 10-scale difficulty), try going to Mt. Daraitan in Tanay, Rizal.
Boasting picturesque views, a river that's fun to swim in, and a bit of a challenge at some parts of the hike, this is something couples can definitely bond over and experience nature on a different level. All of that for less than Php 600/person for the entire trip (including light food)… that's a great adventure date already!
Things to do: Take a picture at the top! You deserve it! And if you still have time, go for a dip in the Tinipak River to refresh and recharge!

For the couple who loves the concrete jungle: Makati
Makati, as gasgas as it already is, still proves to be an exciting place for people to go to for dates. For some reason, there's always a new surprise to find in Makati that doesn't necessarily have to break the bank. There are great malls, unique hole-in-the-wall restaurants, and fun activities that will make any concrete jungle-loving couple explode with joy and contentment.
Things to try: Check out Circuit Makati for great eats and activities. If you're more gourmet, visit the weekend markets of Salcedo and Legazpi Villages. The nightlife isn't that bad, with Belle and Dragon and other establishments ushering a revival of the Makati scene. If all else fails, just walk around Ayala Triangle for a spectacular lights show where you and your partner can HHWWMPSP (hold hands while walking, may pa sway-sway pa).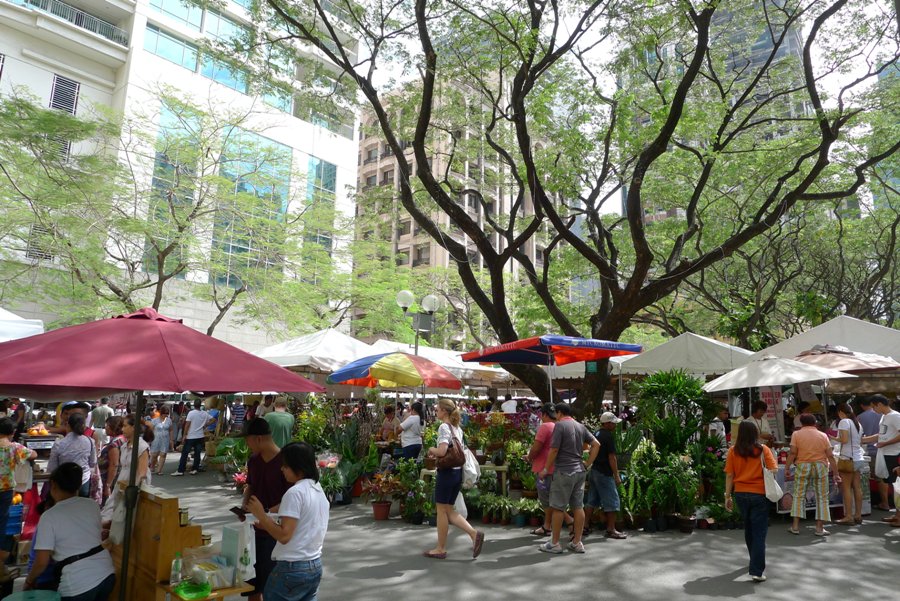 For the foodie couple: Quezon City Food Parks
Food parks are on the rise in the northern regions of Metro Manila. While the Maginhawa area is teeming with many standalone establishments that will last you for a good month of food tripping, it also has multiple food parks where smaller kiosk-style pop-up stalls take the stage and offer unique and Instagram worthy selections. But why restrict yourself to Maginhawa? Take your sweetheart across Quezon City's many food parks and enjoy food together without thinking about the weight you'll gain — after all, weight gain is an indication of a happy relationship!
Don't know where to go? If you really want to stay in Maginhawa, hit up 150 Maginhawa Food Park to get some great barbeques, chicken wings, poutine fries, and churros and ice cream. If you want to go somewhere near but new, try Merkanto: International Street Food, which serves you a slice of the World Street Food Congress, and then some. Grab some grub while you get your car cleaned, since it's located in a car wash… how convenient! If you wanna wander towards the Mindanao Avenue area, feel free to check out Boxpark, a place where you can get your old-fashioned burgers alongside overflowing milkshakes and sushi tacos!

For the laidback couple: Alabang
Alabang has a lot of gems that definitely stand out. If you're looking for a staycation that is more laidback than adventurous, Alabang is the place to go. With affordable boutique hotels popping up around the area (there are also deal vouchers online, too) and unique restaurants abound, it's a no-brainer that this is a place to go to for couples who are looking to just spend time together doing nothing but pass time enjoying the holiday weather.
Some places to definitely try to eat at are: Ramen Yushoken and a special Ralph's Liquor that serves bottles you can buy from them right off the bat at Molito while Sushi Ninja is a go-to for more non-ramen Japanese fare. For activities, if you're just looking to spend some QT (Quality Time) with your cutie, why not hit a couple of buckets of golf balls at the nearby driving range, or just enjoy a movie in Town.

For the artsy couple: Antipolo
If you and your partner are all about Instagram goals, then Antipolo is the place to go. The hills of Antipolo is riddled with many picturesque spots for couples looking for that perfect shot. Pinto Art Museum is one place that will stock you up with photos for a good month, while Luljetta's Hanging Garden Spa covers 5 hours of relaxing activities and scenic views of the metro.
If you want to up the romance level, you can head on over to Vieux Chalet, a Swiss-inspired restaurant that has sweeping views of the metro as well, but this time paired with good food. It's a bit pricey, but who cares — it's for your special someone anyway.

Take BAE Somewhere Special
Is your budget (or the lack thereof) stopping you from giving your darling a little gift or from taking your beau out on a nice date? Turn to PawnHero for a quick loan. We take your standard pawnshop fare and go beyond your average pawnshop by accepting luxury bags, watches, and even valuable household items such as paintings and more.
We take your pawning experience to a whole new level by offering the PawnHero app. Now, you can pawn your items in the comfort of your own home. Download the app on Google Play or learn more by visiting www.pawnhero.ph