10 Surprising Things You Can Find Inside a Pinoy's Pocket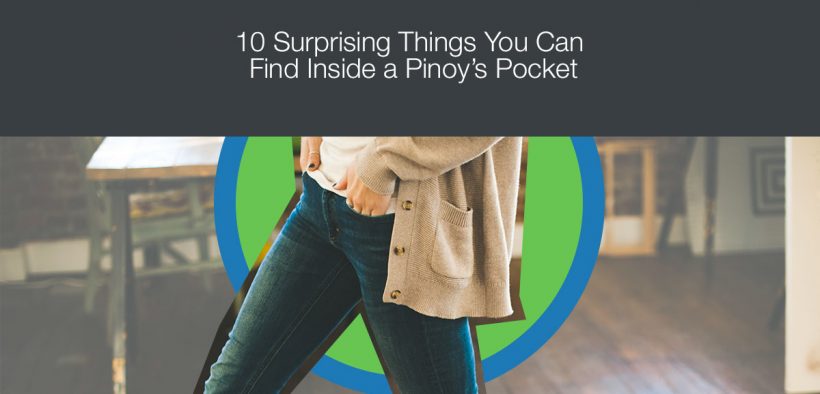 I'm sure you've seen plenty of those "what's in your bag" columns in glossy magazines where they interview A-listers, asking them about the contents of their purse. But then lists like these always make you think "if she hasn't sold her soul to the devil, there is NO way that white iPhone case would remain that pristine." These columns make you wonder if Lady Gaga ever uses wet wipes, or why Taylor Swift apparently has never had an upset tummy.
But, really, what's in our bags? PawnHero takes a more realistic look, featuring the common contents of a typical Pinoy's bulsa.
Memories

You grab a pair of pants that's been hanging on a hook mounted to the back of your bedroom door for quite some time. You forget that the only reason it hung there limply was because it was the last thing you wore to a date that ended miserably.
You put your hand inside the pocket and find torn concert tickets (how could it have ended so badly when she pleaded you to go with her to that concert?), fast food vouchers (handed that same night by the sweet lady who stood beside the statue of that fat bee), and a forgotten "love note" ("thanks for a wonderful night," it said.) Wonderful night. Right. You try to hold back your tears as you toss each of the pathetic memento into the trash bin and the (smelly) trousers, into the laundry basket.


Pepper Spray

Black metal tube with black trigger, attached to a metal keyring. Given by Mom in 2011 when for your first job, you had to work the night shift. Never used but often palmed, especially after midnight. You're not sure if pepper spray ever expires, but if it does, well, you'd have to resort to using your stiletto heel (or your girlfriend's) for self-defense.

Random Pocket Dust

Have you ever reached into your pocket for some bills, only to fish out a handful of white-ish lint? Let's just call this curious mass the Random Pocket Dust. RDP may have been the result of that one time when you had a bad case of the flu and you needed to blow your nose every five minutes just so you could breathe. Well, all those used tissue paper remained forgotten in your pocket until it was time to wash it. That mass of used tissue became RDP after a few rounds in the washing machine.

ATM receipts

My partner actually carries several ATM receipts in her pocket. She keeps all of them, and, in her neat script, labels each according to where the money went. At the end of the day, she checks each piece of paper and calculates her expenses against the remaining balance to keep track of her finances. Obsessive budgeting, and it makes her pockets bulge, but to be fair, it actually works!


Loose Cash

Now, this is the kind of surprise we actually want inside our pockets. Once, I found three one hundred-peso bills inside the pocket of my jeans. Sweet.
Watch (among many other things)

In the 1800's, cowboys wore their watches on chains and kept them in their waistcoats. Eventually, Levis introduced this small pocket, specifically for safekeeping of the watches. The vestigial small pocket allowed the watch on a chain, or a fob, to be slipped into the pocket and pulled out by the chain to easily view the time.
Fast forward to present, no one actually puts their watches in that pocket anymore. It, however, protects many other unlikely things, such as tickets, gums, USB dongles, and even a lighter.
Candy

Remember that piece of Mentos your crush handed you after your dinner together? You cherished that piece of candy so much, and promised yourself you'd frame it and put it up on your wall. Well, you never got to the framing part, but the solitary Mentos remained in your back pocket, untouched.
Legitimate Garbage

We're talking foam buds, misshapen model kit parts (from your little brother's Gundam-crazy phase), sand (yes, you went to the beach and yes you washed that same pair before reusing it, but no the sand didn't budge), twistee wires, nail clippings (why you'd even want to keep that, I don't know), more tissue (not sure if they're soiled, or if they're clean but only look dirty from being tossed around, along with the other contents of your pocket), and the list goes on.
Food

Whether it's still eatable or not, you're bound to find food inside your pocket. You have no idea what happened or how it got there, but just recently, you found a single fry inside it. You dust it off a bit and bite into it to check if it's still edible. Nope.
Pawnshop

Pawnshop. No kidding. PawnHero, the first online pawnshop in the Philippines, puts the power of quick, pawn-based loans in your pocket by creating an app that allows you to receive a valuation for your item with just a few clicks. It is a convenient, all-in-one, free tool that allows you to apply for a loan anywhere you are.
Most Filipinos who have been in tight financial situations can attest to this: looking for short-term cash is like pagsuot sa butas ng karayom. First, there is the problem of finding someone to borrow cash from. As bank loans entail longer processing periods, Pinoys tend to turn to the trusty neighborhood sanglaan. These offer a quick fix, but then one has to brave dreadful Manila traffic to get to the pawnshop, if only to get low appraisal for their item or worse, rejected.
The arrival of the PawnHero App marks the end of those days. We take a wide range of items including jewelry, diamonds, precious metals, and gemstones (your standard pawnshop fare) and go beyond your average pawnshop by accepting luxury bags, shoes, watches, and more. Enjoy a hassle-free loan experience by downloading the app on Google Play today!