Snacks that Bring Back Childhood Memories
One of the best feelings in the world comes with remembering the good old days. It's when we relieve memories of our childhood. Like that of the summer we discovered the joys of catching salagubang and how, in that same year, we also learned to climb trees and pick aratilis. That time we actually anticipated family outings and reunions, because it usually meant going to the beach. That time we played all day under the scorching heat of the sun, giving us deep tans that some of us have carried and embraced well into adulthood. That time we actually dreaded going to school, and perpetually prayed for a longer recess period. That feeling we get while opening our lunch box–the sheer anticipation that comes with finding out which treat Mom has included in our loot.
Speaking of baon, PawnHero takes you to a trip down memory lane by listing some snacks that bring back our fondest childhood memories:
Pompoms

What it is: Melt-in-your-mouth cheese flavored curls.
Why we love it: Because of the myth that the packaging is actually a temporary tattoo that you can transfer to your skin using rubbing alcohol.
Tarzan

What it is: Sweet-smelling, lasting gum that looks like a pencil eraser.
Why we love it: It comes in different colors!
White Rabbit (Original)

What it is: Milk-flavored chewy candy.
Why we love it: It comes with a wrapper that looks like wax paper. We're not sure if it's edible, but we go ahead and eat anyway. What? It melts in the mouth!
Iced Gem Biscuits

What it is: Mini biscuits with icing on top.
Why we love it: The icing tastes like the little flowers we decorated our birthday cakes with. Hindi na kailangan makipag agawan with the birthday girl.
Mik-Mik

What it is: Milk powder in a sachet.
Why we love it: It tasted good! Almost choking to death (it was inevitable to sip the straw too hard) was worth it.
Bazooka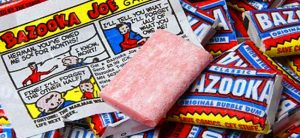 What it is: Pink gum that looked like a detergent bar.
Why we love it: Free comics inside!
Chocnut

What it is: Choco-peanut butter flavored candy.
Why we love it: It's sweet, nutty, and it melts in the mouth. Once you pop, it's hard to stop.
Captain Sid Butong Pakwan/ Dragon Sid

What it is: Dried watermelon and squash seeds, respectively.
Why we love it: Popping the shells open were such great boredom busters. For those of us who don't know how to crack it open, sucking the flavor out of the seeds would suffice.
DooDoo

What it is: Fruit-flavored candy that looks like a pacifier.
Why we love it: Though the candy detaches from the ring just before you pop it into your mouth, it's still useful when we want to pretend we're infants.
Melody Pop

What it is: A tube-shaped lollipop with a hole on top, which you can blow like a whistle.
Why we love it: It has a pull-out stick that looks like a flute. It even comes with a song sheet. No pleasant sound can ever be made, but we like to pretend we're some music whiz anyway.
Cigarette Candies

What it is: Hard candy that resembles cigarettes.
Why we love it: Because the ignorant little daredevils we were thought it was cool to smoke.
Haw Flakes

What it is: Disc-shaped candies made from the fruit of Chinese Hawthorn. It was originally a sort of Chinese traditional medicine, used to deworm little kids.
Why we like it: Well, we played pretend communion with it, occasionally changing the words to suit our childish (blasphemous) humor. i.e. "Katawan ni Kiko?" "Macho"
Orange Swits

What it is: Orange-flavored gummy candy.
Why we love it: We can tell our Mom we're eating healthy ("I ate an orange!" and mean it. Sort of.
Nata de Coco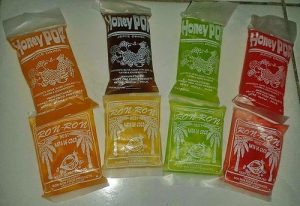 What it is: Fruit juice made entirely of food coloring, water, and coco jelly.
Why we love it: Because nata de coco is the best thing that has ever happened to your Ate's fruit salad.
Sunshine Green Peas

What it is: Uhm. Green peas.
Why we love it: It is green peas. Only crunchier.
Tattoos Chips

What it is: Cheese-flavored corn chips.
Why we love it: How could a pack this tiny explode with so much cheesy goodness?
LALA Milky Chocolate

What it is: All-natural milk chocolate.
Why we love it: It is pastillas and chocolate, in one!
Nougat Candy

What it is: Chewy, nutty candy similar to the bits in your Toblerone bar.
Why we love it: It's just sooooo good. Though it sometimes sticks to the teeth. And the roof of the mouth.
Ovalteenies

What it is: Chocolate-flavored tablets.
Why we love it: It totally eliminates the need to eat our Ovaltine from a spoon.
Mysterious Cherry Gum Balls

What it is: Little cherry-flavored gum.
Why we love it: It cost merely 25 cents per piece, plus, it colors the mouth and lets us pretend we have lipstick on.
As much as we'd like to travel in time and go back the time when the most difficult decision we had to make was to choose between two animated series, it is just not possible. We are left with no choice but stay here, in this time, where we have to hustle each day to be able to pay the bills.
Those days of pure whim and happiness may be over, but we can always make the most of what we have now. As novelist Tom Robbins puts it, "It is never too late to have a happy childhood." Make the child in you happy. Go to a theme park or the zoo. Go eat some ice cream in a playground. Swim in a giant ball pit.
If your budget is getting in the way of your happiness, try pawning for some extra cash. PawnHero provides quick cash loans and accepts almost anything as collateral. Now, pawning is easier than ever with the PawnHero App. Check it out on Google Play today!