Halo-Halo, Sago't Gulaman, Ice Candy: Cool Pinoy Treats to Beat the Summer Heat
With the summer heat in full swing, you can't help but wonder if you're still on the right planet, or if by some odd chance, you had been accidentally transported to Venus or something. But nope, you're still on Planet Earth. It just had been extraordinarily hot these past few days. In fact, on Tuesday, April 12, the temperature in Metro Manila rose to 36.3°C. This, by far, is the highest temperature recorded in the area this year.
Well, thank heavens you're born a Filipino. We Pinoys rarely just sit around, enduring the unforgiving heat. What we do, however, is whip up special desserts that can help make the dog days easier to bear.
1. Sago't Gulaman

Pinoys are big sago't gulaman drinkers. This refreshing drink is made with shaved ice, caramelized sugar, tapioca (sago), gelatin (gulaman), and a dash of vanilla extract. For extra flavor, you can add some pandan leaves to the tapioca while it's cooking. Other versions of samalamig include buko pandan, fruit salad, and ube-macapuno.
2. Halo-Halo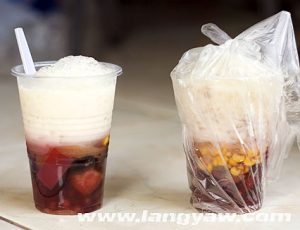 An all-time favorite among Filipinos, halo-halo is a hodgepodge of mostly Pinoy ingredients. One serving of halo-halo usually contains saba, ube, mais, pinipig, nata de coco, garbansos, sago, and gulaman topped with shaved ice, evaporated milk, leche flan, and sometimes, a scoop of ice cream. Too much goodness in one cup!
3. Ice Scramble

When we were kids, playing under the scorching sun was bliss and torture in equal parts. Those days, salvation comes in the sound of a bell, and the familiar voice of a man that says "skramboool!" We're not exactly sure how something made entirely of crushed ice, food coloring, milk powder, and cheap chocolate syrup could taste so awesome, but never mind that. We'd still scramble for ice scramble.
4. Shake

I remember how, when I was a kid, we would swarm to this small store behind our school to buy flavored shakes. The most difficult part was always choosing between fresh mango and bubble gum—my two favorite flavors. Flavored shakes are the best companion for kwek-kwek, cheap cheeseburgers, kikiam, fish balls—you know, the usual merienda fare.
5. Ice Candy

When we were younger, we battled heat by striking a one-peso coin against the iron grilles of our neighborhood sari-sari to buy ice candy. Ice candy is basically just fruit juice poured into ice candy wrapper and kept in a freezer overnight. It comes in various flavors such as buko, mango, chocolate, and more. At only one peso per piece, it is easily the one of the best frozen treats for both the young and young at heart.
6. Sorbetes

Usually wheeled around in a handcart by a straw hat-wearing, bell-bearing Mamang Sorbetero, it usually comes in three flavors: ube, cheese, and mango. Sorbetes is just so good, it inspired a song that was popularized by Celeste Legazpi. The lyrics goes: "Mamang Sorbetero, anong ngalan mo, tinda mong ice cream, gustung-gusto ko/ init ng buhay, pinapawi mo/ sama ng loob, nalilimutan ko. For us who have tasted this classic Pinoy treat, these words ring so much true.
7. Buko Juice

Ah, another reason to be thankful you were born a Filipino. In other countries, people pay premium for this. But in our tropical country, we can drink this refreshing, vitamin-rich drink, fresh from its shell, anytime we please!
8. Mais/ Saba Con Hielo

This dessert inspired so much internal conflict among most Pinoys. Why, it is always so difficult to choose between mais or saba con hielo. This treat is made with shaved ice, evaporated or condensed milk, and corn or saba. It's sort of like minimalist halo-halo, still super good, only with less calories. 😛
This summer, make some extra cash by selling these cool treats. In this hot weather, your goodies are guaranteed to sell like hotcakes. Set up your own business now! Pawn your old items with PawnHero via the PawnHero App today, to get extra cash for your capital.