Stunning Santacruzan Gowns by World-Famous Pinoy Fashion Designers
In the Philippines, May is known to be the most colorful time of the year. It is the month of fiestas, signaling merry-making that lasts for several weeks on end. It is the month when rains begin to pour, relieving long dry spells, and allowing an abundance in harvest and flora. As a predominantly Catholic country, Filipinos show their gratitude for the beneficial rains by giving praises to the Virgin Mary.
The Virgin Mary is venerated through a string of festivities commonly referred to as the Flores de Mayo (Flowers of May). During this time, church aisles and altars are decked by an array of beautiful, fragrant flowers. Townspeople, in their Sunday bests, gather in the afternoons to pray the rosary, and to share homemade snacks afterwards.
During the Flores de Mayo, select maidens from every town participate in a week-long pageant called the Santacruzan. The belles were chosen not for their looks alone, but for the way they embody the qualities of the quintessential Filipina.
This Flores de Mayo, be the fairest Reyna of all in a splendid gown inspired by creations of world-famous fashion designers:
Mak Tumang
Fashion Designer Mak Tumang's creations are inspired by historical costumes and ornaments. His creations are often made with silk, tulle, and felt, embellished with flowers, beads, and precious stones. If you are a modern-day Reyna Elena looking for your happily ever after, pattern your gown after these dresses by Mak Tumang: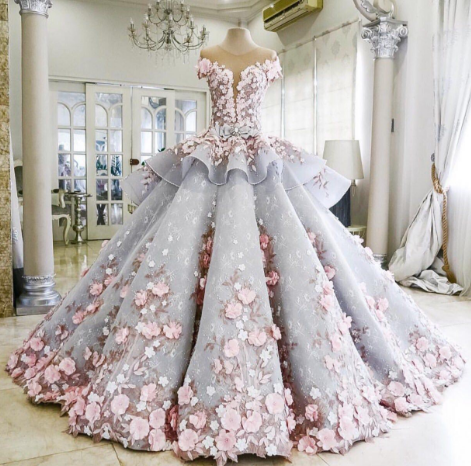 Mak also uses other natural, environment-friendly materials in his creations. Prove that you are Reyna Elena-worthy with a gown that incorporates environment-friendly accents such as this:

Vania Romoff
Dubbed the darling of Philippine Fashion, Vania Romoff uses clean lines and flattering silhouettes to come up with pieces that exude quiet elegance. Her designs are favored by A-listers and socialites—basically the cream of the crop.
If you are every bit the dalagang Filipina—simple, delicate, and classy, a Vania Romoff creation is for you.


Mark Bumgarner
Mark Bumgarner spent his early years as a Formula racer. When he transitioned from being an auto sport racer to a fashion designer, no one took him seriously. Even his own family dismissed it as just a phase. But soon enough, Bumgarner started creating exquisite pieces that gained the approval of prominent people in the Philippines and abroad.
If you are looking for an edgy, fearless ensemble, a Mark Bumgarner piece is your best bet.



The gowns below are designed by Mark Bumgarner and the details were hand painted by actress Heart Evangelista. The two collaborated for a charity project.

Michael Cinco
Michael Cinco made a name for himself in the international fashion scene by creating haute couture weddings gowns. His creations became a favorite among world class celebrities and socialites. He now owns a haute couture boutique based in Dubai.
Michael Cinco's designs are a cross between fantasy and reality. They incorporate whimsical elements and interesting details into a rather basic ball gown to create a piece that can turn heads without being too overpowering.


Monique Lhuillier
Monique's career in fashion design in 1996, and in 2001, she opened her first retail store. Her big break came when she was tapped to create a wedding dress for Britney Spears and for Christine Baumgartner.
If you are into neutrals with a dash of luxury, Monique's creations are for you.

Stella de Libero
Okay, Stella de Libero is a Japanese label, but her designs are too pretty to resist! Her creations are mostly fairy tale-vintage, and are accentuated by precious stones, ribbons, lace, and rosettes.

Be the Belle of the Ball!
Be the apple of everyone's eye this Santacruzan in a darling gown. Getting a ready-to-wear piece from Divisoria may save you time and money but these RTW gowns may not always be of ideal design and quality. Look your best by finding a design inspiration and scouting for materials (beads, stones, fabric) at Divisoria. You may then head to a trusty tailor in your neighborhood, and communicate how you would like your gown to look. Complete your Santacruzan garb by choosing the right pair of shoes and accessories.
For some extra Santacruzan budget, turn to PawnHero. As the first online pawnshop in Southeast Asia, we let you pawn your old items in the comfort of your own home. To learn more about the items we accept, visit our website today.