Hooray for the Ber months! Everyone, for sure, is going gaga over plane ticket discounts and where to spend the most wonderful season of the year.
If you're planning on where to go for your next adventure, this guide can help you out with some of the best destinations—local and international—to visit during the Ber season.
LOCAL DESTINATIONS
Sagada
If you've seen the movie "That Thing Called Tadhana," then you might think that this is the perfect place to look for that special someone. But it's actually an ideal place for outdoor activities and adventures.
Your journey in Sagada begins with a trek to the Big Falls. After trekking, go caving in the Lumiang-Sumaguing Cave Connection, where amazing rock formations including the King's Curtain and Porn Caves are found.
Spend a peaceful, serene afternoon after the long trip at Lake Danum. Don't forget the best part. Watch the breathtaking view of the sunrise at Kiltepan Peak. Such a picturesque view!
For group trips, an estimate of P5,000 per person for 3-day, 2-night stay plus the activities will get you going.
How to get there:
Take the route from Manila via Banaue and Bontoc by riding a bus from the Legarda Terminal (below LRT2). The bus leaves daily at 8 PM. Regular fare is at around P800. You can also take the route via Baguio, which usually takes 5-6 hours for around P400.
Tip: Leave Manila at 11 PM to reach Baguio at around 5 AM the next day.
San Juan, La Union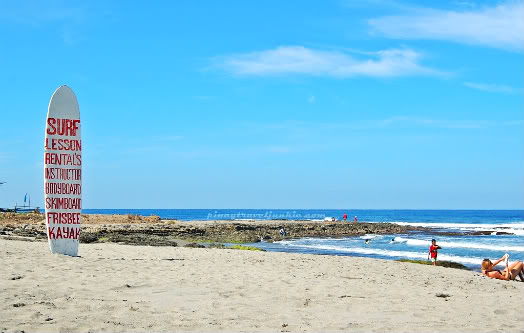 The waves are calling! La Union is the perfect place to unleash the surfer in you. The best time to visit La Union is from December to March where the waves are at its best.
Since San Juan, La Union is popular for its surfing culture, hitting up the water action is the top to-do activity here. Go for a trek to Tangadan Falls in San Gabriel, where you can expect to get wet as you go straddling the Baroro River on the way up there.
If you're up for extreme activities, try the Pugad: Pugo Adventure, where you can enjoy wall climbing, ATV driving, and zip lining. End your day with a splash at the Pebble Beach of Luna.
Gimmick tip: Dine at Surf Shack if you're in for barbecue, beer, and live performances. Prepare to spend (roughly estimated) P2,000 per day for food, transportation, activities, and lodging.
How to get there:
In Cubao or Pasay (Partas Transportation), take a bus going to Laoag at around P400. It's a 5-7 hour ride from Manila. Don't forget to advise the conductor to drop you off at Urbiztondo, San Juan, La Union.
San Felipe, Zambales
If you want to go far from the crowd, San Felipe in Zambales is definitely the best place to be. It's a go-to place for a quick escape from the city. And since it's just a few hours away from the metro, it's great for short weekend impromptu trips!
Surf, swim, and be a beach bum! This is also a nice place to practice some surfing skills for starters.
Tips: It's a dead spot for phone and internet signals, so might as well not bring your pocket Wi-Fis. Ilocano or Tagalog are the best dialects to communicate. Lastly, don't bring your shoes. Instead, bring slippers for a better walking experience.
How to get there:
Take a Victory Liner bus bound for Iba or Sta. Cruz, Zambales, which is a 4-5 hour trip from Manila. Advise the bus conductor to drop you off at the town square of San Felipe or in front of Bobulon Elementary School.
Baler, Aurora
Baler is one of the most sought-after surf spots in the country. It's known for its distinct long stretch of gray sandy shoreline with some wave action from the Pacific Ocean, which is enjoyable for those up for a nature-loving, historically relevant, and extreme trip!
Baler is also known for its history, rich culture, and extreme surf waves that interest tourists, backpackers, and adventure-lovers. Take photos at the famous Millennium Tree. Learn to surf for about P300-500 or explore the place with a motorbike that costs P500-800 a day depending on the model.
It's pretty cool that you can go around and discover the beautiful spots in Baler your own way. But if you want it old school, learn about their history and witness the old ages in the Museo de Baler.
If you prefer extreme adventures, hike the Ermita Hill or cross the famous Tibag-Sabang Hanging Bridge.
Food hacks: Give the local Baler suman a shot, and have your micro-brewed beer at the Baler Brew!
How to get there:
Travel time is around 5-6 hours from Manila. For a more convenient trip to Baler, take the Joy Bus of Genesis Transport Terminal in EDSA-Cubao. It's like taking the plane with free Wi-Fi, blankets and pillows. Plus, no stopovers!
Daily trips are at 12 MN and 4:30 AM, with around P700 fare. Genesis Transport Bus also has direct trips to Baler for around P500.
Alternative route: Ride a Victory Liner Bus in Cubao going to Cabanatuan. From there, take a public utility van to Baler.
Batangas
Batangas is a go-to place for company outings, summer getaways, reunions, and random trips. Since it's just a 2-3 hour ride from Manila, you can even go there without having to plan ahead.
In Batangas, you can find the smallest active volcano in the world, the Taal Volcano! Go church hopping because Batangas is home to famous and timeless churches like the Taal Basilica, Lipa Cathedral, Mt. Carmel Church, and Batangas Basilica.
Get your history notes ready if you're planning to visit the Miguel Malvar Museum to learn about the old times of Batangas. If you're a beach bum, go to the beach resorts around Laiya, Calatagan, and Matabungkay. Resort tickets per head usually cost P500 for day tours, while cabanas and huts may vary in prices depending on size. A short weekend isn't enough to explore this summer haven!
How to get there:
Check buses in these terminals, depending on which part of Batangas you want to go. TALPS Bus in Cubao, Quezon City; CROW Bus in Espana, Sampaloc, EDSA and Pasay City; JAM Transit in Quezon City, Taft, Cubao and Quezon City; RRCG Bus in Pasay City; TRITRAN Transit in EDSA-Kamias, Quezon City and Taft; Batangas Starexpress in Buendia, and KL CNG Transport in Cubao. The fare is at around P150-200.
INTERNATIONAL DESTINATIONS
How about we take this to another level? Let's do it international!
Kuala Lumpur, Malaysia
Have you seen the movie "Miss You Like Crazy" starring John Lloyd Cruz and Bea Alonzo? The twin towers featured here is the famous Petronas Towers found in KL Malaysia. Fancy, right?
The best time to see the perfect view of the Petronas Towers is at night when it's all lit up and looking fancy! Check the Batu Caves. It's not the typical caving experience because it has three main caves, along with temples and Hindu shrines. Indeed, what you'll find inside will definitely blow your mind!
There are a lot of big malls and parks around the city of KL. This trip suggests a lot of leg work because it's better to explore the place walking around than to hop on and off cabs and buses.
If you're on a budget, prepare at least P3,500 or 300 RM (Malaysian Ringgit) for a 3-day, 2-night stay.
Hong Kong
Hong Kong is the best place for an ultimate shopping spree! It takes lots of effort to get a great bargain in some stores, so prepare your tactics before going out to shop.
Shopping Tip: While shopping, don't convert the currency in your mind if you're on a budget.
Go to theme parks if you still have that kid inside you. If you're up for rides and is still hungover from the Disney characters from your childhood, Hong Kong Disneyland is the place to be! Ticket costs HK$420 or almost P2,500 for adults and HK$320 or P1,500 for kids.
If you love the wildlife, then go to Ocean Park. Adult tickets cost HK$385 or around P2,700, while kid tickets are at HK$193 or almost P1,200.
Up for some adventure? Get the perfect view of Hong Kong at Victoria Peak! You'll have no words after that hike for sure.
Siem Reap
It's been said that the life-support system and gateway to the temples of Angkor, Siem Reap were always destined for great things. This may drive you to explore Siem Reap in a deeper sense and know more about its incredible history.
First off the list: Angkor what? Angkor Wat! Get ready to be fascinated by the magnificent structure and its picturesque view. It's Cambodia's source of fierce national pride, definitely something to look forward to upon going there. Its perfectly-carved statues make it extra interesting. Each carving represents historical events and stories from mythology.
Tips: Wear modest clothes to pay respect when you visit the temples. You can also check out their night markets around the streets and get yourself some souvenirs!
Bangkok, Thailand
Bangkok is known as the city of smiles. More than being the backpacking capital, Bangkok is popular for its exotic culture, the famous floating market, and the delectable Pad Thai!!
Aside from its budget-friendly shopping places, learn more about their culture by visiting temples and experiencing their own version of a tricycle, the tuktuk.
You can find cheap thrills at Chinatown and floating markets, and enjoy the nightlife at Khao San Road or Pat Pong.
Peso to baht exchange is almost the same, so it's easier to stick to budget plans.
Hanoi, Vietnam
Aside from being one of the world's top 10 destinations by TripAdvisor, its fascinating blend of East and West makes Hanoi, Vietnam more interesting to know. The winter season here starts from December to February, so better bring your jackets and mittens with you.
Prepare, at least, a P2,000 budget plan for the trip because Vietnam isn't really the typical expensive type of travel you would encounter.
Your must-go places: Check out Hoan Kiem Lake and Ngoc Son temple and Hoa Lo Prison, where political prisoners, and later, by North Vietnam for U.S. Prisoners of War stayed during the Vietnam War.
Check out the St. Joseph Cathedral, the oldest Roman Catholic Church in Hanoi.
Do you still find it hard to go to all these places and fit everything into the budget? Then it's time to turn some of your old jewelry and other unused gadgets into cash. Pawn them at PawnHero, the first online pawnshop in the Philippines, and explore the world without spending too much!
The following two tabs change content below.
Gem Muzones
Gem is a contributing writer for PawnHero. She was a news writer who walked alongside protesters in the streets of Manila and a magazine editor who got free passes to product launches and the hippest events. She's a big Game of Thrones fangirl, 1/2 of a budget travel blogging duo for
Travels with a Hobo
, and suffers from chronic hair dissatisfaction (she changes her hair color every month).
Latest posts by Gem Muzones (see all)