Get a Pocket-friendly Experience To These Local BER-Month Festivals
The holidays isn't the only occasion you can expect during the BER months because another way to double the fun is to get a festive experience with infamous local BER month festivals!
If you haven't had a fiesta-thrilled adventure yet, it's not too late! The BER months are scheduled with exciting tourist-filled fiestas! So start booking now as we share pocket-friendly experiences to these much-awaited festive celebrations!
1) MassKara Festival
When: October 01, 2016 to October 23, 2016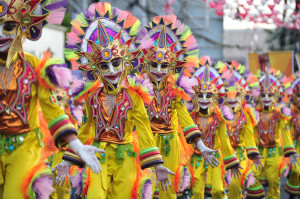 Image source: Mynegrosislandguide
One of the most awaited festivals in the country is now on it's 37th run! Overflowing with eccentric, fun and youthful vibe bringing a flare of vibrant colors and characterized by masks, the MassKara Festival is sure to make you dance to the beat! Bacolod City def prides itself as the the Mardi Gras of the Philippines.
Aside from wearing your own festival masks, grab the opportunity to visit the famed ruins and other attraction sites! Plus your fiesta experience wouldn't be complete without checking out the Joto Vito Designs gallery where you see artists in action, get to paint your very own mardi gras styled masskara and buy luminaries, wall decorations and many more souvenirs!
Food Tripping? Well you're in a great place because Bacolod will never disappoint you with affordable food spots! Plus, Bacolod's sugarcane industry is sure to let your sweet tooth get a sugar-rush adventure because the city is filled with local restaurants that serve a variety of food to satisfy your delectable demand.
Place to stay? The best places to book a hotel accommodation are along the streets of Lacson and Araneta where most of the festivities take place. There are a lot of pension houses, hotels and transient houses for budget travelers ranging from Php 1000-2500.
FRIENDLY MONEY CAUTION TOURIST TIPS:
Almost every destination in Bacolod City and surrounding cities are accessible via public utility jeepneys passing by the Central Market.
NEVER ride tricycles when you're simply around Bacolod City. Most trike drivers will charge Php 100 EACH for a 2 kilometer ride. Opt for the jeepney, pedicab or taxis instead.
If you're a student, DON'T EVER FORGET TO BRING YOUR ID's, It's your ticket to get more discounts!
2) Ala Eh! Festival
When: December 01 to 08, 2016

Image source: WowBatangas.com
Batangas is indeed a travel itinerary hot spot. With trekking sites like Mt. Taal and nature tripping adventures on the list, the wanderlust is sure to leave the place the happiest. Aside from Batangas' known destinations, something to look forward to is the Mother of all the festivals in Batangas- the Ala Eh! Festival!
The fiesta symbolizes the unity of all the municipalities and cities of Batangas as a celebration of the province's foundation anniversary. With colorful events such as Mutya ng Batangas, Film Festival, Trade Fair and the colorful street dancing and float parade, the week-long grand fiesta is sure to fill your Ala Eh! bucket list. As always, save the best for last, the last day of the fiesta features the grand street dance competition of all participating Batangas towns. So keep that schedule in check.
Place to stay? Every place gets a chance to host the yearly festival. Last year, the Ala Eh! festival was hosted by Sto. Tomas, Batangas. No announcement has yet been made for the lucky town host. So, keep your tabs open for updates on their website.
FRIENDLY MONEY CAUTION TOURIST TIPS:
Beware of scams if you plan to go on trekking adventures. It's better to read blog entries and check the internet to get an impression of the real rates.

A group travel can help you spend less than a thousand.
3) Lanzones Festival
When: October 23-29, 2016

Image source: Oceanislandtravel
Viva Isla Del Fuego! Down south of the country, a small island north of Mindanao will surprise your travel journals with adventures! The Island born of Fire as its famed, Camuiguin, is boasting with must-see attractions! One must not also miss in his/her lifetime a chance to experience the Lanzones Festival.
During the fiesta, houses and street posts often decorated with lanzones will greet your experience. For a friendly food hack advice, you can expect to buy a kilo of lanzones from 30 to 40 pesos. Oh, but you can still haggle for a lower price!
Place to stay? This season is at its peak so make sure to book a place to stay ideally 4 to 5 days at the capital of Camuigin, Mambajao. It's where all the festive action are happening. There are rooms as cheap as Php 300 but do check these places at Canuigin Tourism office.
TRAVEL advice: Now that you're in Camuiguin, take a tour on the island. The van tour costs Php 2,500 for 10-12 people, the multicab tour asks for Php 1,700 to Php 2,000 for groups of 8 and 10-12 pax respectively. Going solo? then the habal-habal (motorbike) 200 to 500 range is worth your ride.
FRIENDLY MONEY CAUTION TOURIST TIPS:
Of course, we want to give your money's worth for every vacation time spent. Be aware that during the

Lanzones Festival in Camiguin,

the ferries between Balingoan and Benoni will be extremely crowded. You risk to have to wait several hours in the ports. Especially car transportation capacity will be very limited. We have seen cars queueing up for 12 and more hours. Check the schedules at the ferry ports and airports.

Please be aware that the air-transportation capacity per day is

only 72 passengers

. Be tight on schedule.
4) Higantes Festival
When: November 22, 2016

Image source: ChoosePhilippines
The centuries-old festival awaits the travel blogs of any explorer. At most 45 minutes away from the Metro, the municipality of Angono, popularly referred to as the "Arts Capital of the Philippines", yearly hosts the world famous Higantes Festival!
The festival highlights 10 feet high giant paper mache figures marching through the streets leading to the stop at Laguna de bay banks. One could witness several other festivities including singing contests, art exhibitions and the local custom of spraying with water everyone. So take note to bring cameras and an extra shirt.
If you would like to learn more about the Higantes festival make time to visit the popular Blanco Family Museum, which traces the history of the festival.
Place to stay? If you're in Manila, no need for accommodation.
Food tripping: Balaw-balaw restaurant is a go-to restaurants art gallery. The restaurant allows you to visit through floor after floor of the artist's artworks while waiting for your meal. Price range for dishes served are from Php 100-300.
5) Giant Lantern Festival
When: December 18-30 2016

Image source: Complexmania
A traveler should not miss the chance on a trip-worthy destination such as the neighboring region of Pampanga. A long list of restaurants, historical landmarks, heritage churches and shrines are scattered all over its three cities and nineteen municipalities.
The best festival to experience during the Christmas season is the widely attended Giant Lanter Festival at San Fernando City, Pampanga! It is the epitome of the Filipino Christmas culture. Dubbed also as the "Christmas Capital of the Philippines," the Kapampangans are the best parol-makers in the country. So check out lanterns of sheer craft.
Travel advice: The show is free! But you can get VIP tickets in advance to have a full experience at the sitting area and get a reserved parking slot, less hassle indeed! Plus, come in as early as possible as the main roads are full of vehicles and the crowd will grow thicker by the evening.
It's really fun to go to places and experience as much with your peso's worth. Now, in case you need extra budget, you can always turn into PawnHero for help. Just visit the website to learn more. Oh, for wanderlusts out there, a photograph is always a must-have! For cameras, you can check them out at your newest online shopping store, Marketplace.ph by PawnHero, where authentic pre-loved branded items get 70% off their market value.
Don't forget to like PawnHero Philippines and Marketplace by PawnHero on Facebook for updates, games and cash prizes.
Happy fiesta!
Featured Photo Image sources: My Negros Island Guide, Byaheroph, Ocean Island Travel, Choose Philippines, Complex Mania