Around the World: How OFWs Can Spend The Holidays Away From Home
The holidays in the Philippines see a spectacle of reunions, celebrations, shopping sales, festivity attractions and many more.
Our family-oriented culture is what leaves most of our beloved ones abroad terribly missing us. Not all of our fellow countrymen would spend Christmas eves with their loved ones here. We shared how one can cope up with the homesickness [Read: Not Home For The Holidays? Turning The Holiday Homesickness Frown Upside Down], now we share how your beloved ones can spend their holidays away from home. So, if you know someone, recommend this read.
They may be feeling blue come holidays but with these holiday-filled places, the cold won't bother them anyway. Make sure to recommend these holiday go-to places of the following countries they are working or living in.
London
Oh yes, Big Ben, pubs, the English, the Royalty! What's not to love about London? In London, our OFW families will find the city's holiday festivity overwhelmingly magical!
One can take a stroll by the Trafalgar Square, where a huge Christmas tree donated by the Brit stands and carol singing tunes the air.
Go ice skating: Natural History Museum, Canary Wharf, Somerset House and Hampton Court Palace from October right through February.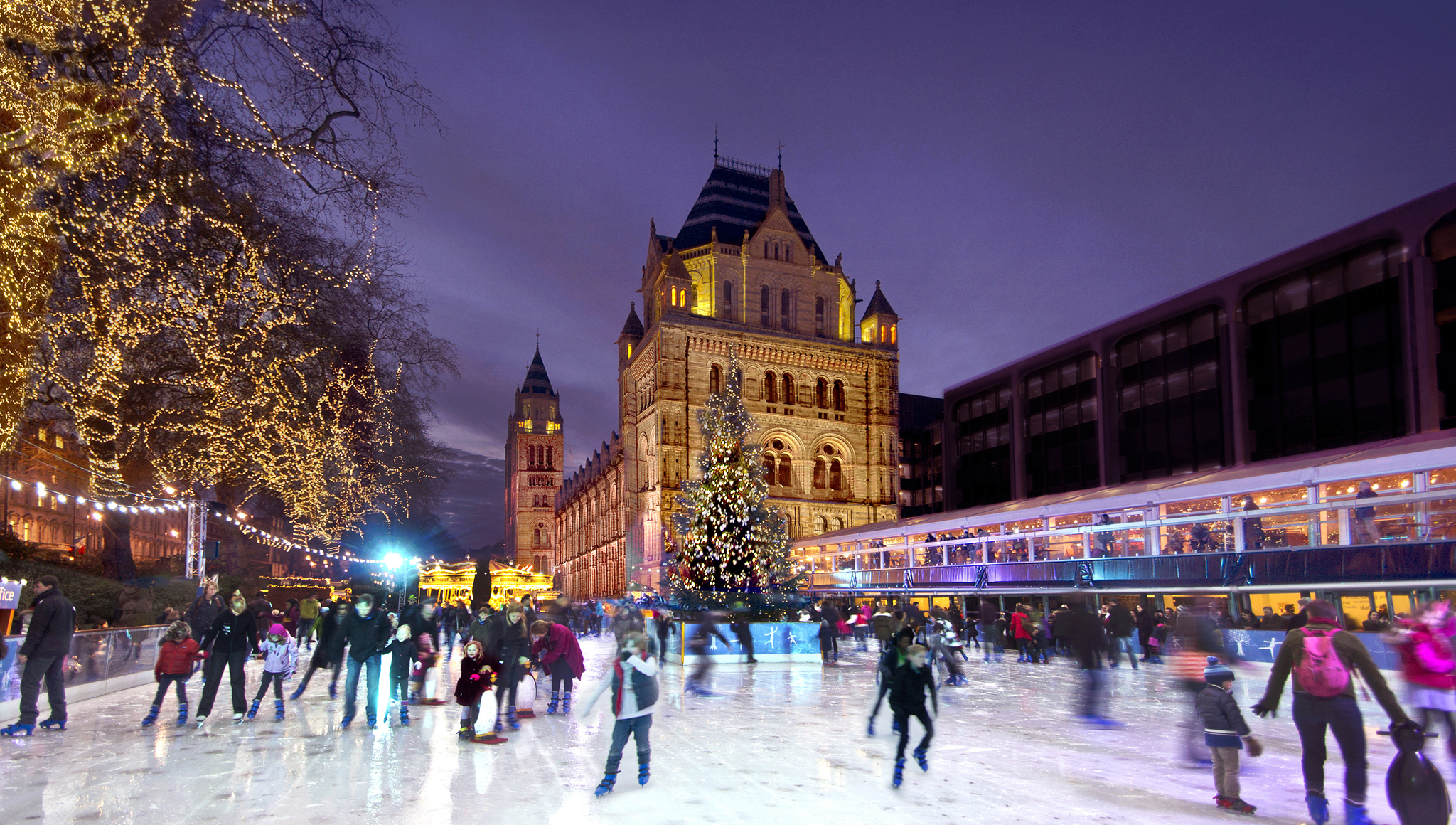 Get wondered by the London Christmas lights and visit markets and fairs such as Winter wonderland Hyde park at the central London and many more London Christmas markets by the eastern, western, southern, and northern parts.
Don't also miss London's biggest shopping destinations: Oxford street (November 1, 2 PM-6:30 PM) Duke of York Square (November 7, 4PM), Carnaby Christmas Shopping party (November 12, 5-9 PM) and Hampstead Christmas Festival at Hampstead High Street (November 29, 12 NN).
On Christmas Day, this would be such a family-filled time. Yes, it will remind our OFWs how much they missed home, but this day sees a lot of London's restaurants and pubs open and there are no tubes, buses or trams running. Yet explore the capital on foot or take the cycle hire, a cab or one's own car.
Toronto, Canada
The maple leaf emblem state, Canada, is also home to OFWs. This state such as Toronto, Canada is sure to be a holiday itinerary for our loved ones as the city sheds into a wonderland filled season.
The illumination of Toronto's famous Christmas Tree at Nathan Phillips Square officially marks the holiday season. One gets to watch featured performances by some of Canada's top artists, a brilliant fireworks show and outdoor skating party under the glow of more than half a million lights enough to warm the hearts of our beloved OFWs.

One can also experience the Victorian-era, cobblestone-lined Distillery historic district dressed on a month-week long event celebrating the much-visited Toronto Christmas Market where local craft makers, carolers, musicians and artisan food-makers gather. Free Admission on Tuesdays to Fridays.
There's also North America's only castle which one must not miss, the Casa Loma (built from 1911-1914), where wide range of activities and exciting performances give the holiday magic. Plus, check out the Christmas flower shows at Allan Gardens Conservatory and Centennial Park Conservatory where thousands of flowering plants including over 30 varieties of poinsettia decorates and fills the conservatories.
Also, watch the Toronto Santa Claus Parade, one of Canada's major Santa Claus parades, on November 20, 2016, Sunday.
New York
Ah, New York! The city that never sleeps! Well, New York bathe in white seems just incredible. This concrete jungle is apparently a city where OFWs also work. There are lots of places to feel the holiday warmth for our beloved ones around the big apple
One can spend masses at the famed St. Patrick's cathedral on Fifth Avenue. NYC is also filled with indoor and outdoor rinks: Wollman Rink in NYC Central Park, Bank of America Winter Village at Bryant Park Rink, Riverbank State Park icing skating rink and many more.
Indulge on NYC's best holiday markets where you find vintage goods, food trucks, tree lightnings at Bank of America Winter Village at Bryant Park, Union Square Holiday Market and artists and fleas at Chelsea market.

One can also experience the Lincoln Square event on November 28 and the spectacular media-broadcast Rockefeller Christmas Tree lighting ceremony on November 30, all with live performances from celebrities and personalities.
Dubai
This jet setter's global city of the Arab world is one among the Kingdom's cities where OFWs go. During the holidays, Dubai is an open country. There are tons of to-dos and go-tos our beloved ones can experience.
Dubai, a home for world records, can marvel our beloved ones. They can book to visit the world's highest outdoor observation deck at the world's tallest building- Burj Khalifa. Then watch the world's largest dancing fountain in Dubai- one of their best free attractions.

For balikbayan boxes this Christmas, well, Dubai is a TAX-FREE nation leaving the city as a shoppers' paradise! Say hello to The Dubai Shopping Festival (DFS) – a prime time to fill balikbayan boxes with gifts for loved ones back home.
One can also enjoy a budget-friendly leisure and past time activities such as dune bashing (riding over sand dunes at breaking speed), cheap eats at Al Phiya Fah Road (Iranian and Lebanese food), cultural experience at AlFahidi Fort, camping and picnics at the parks.
Sydney, Australia
The land down under, the Western style country of the east, Australia, is also a hot spot for OFWs. Of course, the Aussies' love for the holidays is sure to keep our beloved ones warm at heart.
From November 26, the Christmas tree in Martin Place lights up and displays Christmas text or tweet message from 12 Pm to 12 am (So be sure to tweet your message for them even the chances seeing it is not probable). Then take a walk as traditional carols filled the Pitt Street Mall every Thursday evenings from 26 of November to 22 of December.

Visit the village Bizarre night markets as well and attend the free family concert, Christmas on the Green, at Hyde Park where fireworks display are at show too.
During Christmas day in Sydney, the time to explore is at its peak. The Taronga Zoo, a major attraction that opens its doors that day. It is a 15-minute ferry ride from the city. If eating out is a choice, then pack Christmas leftovers and head for Sydney's secret beaches.
Singapore
The Lion City roars with Christmas festivities which is sure to keep our beloved OFWs' homesickness at bay.
One can snap and send postcard selfies at the must-see Christmas On A Great Street at Orchard Road. The road is at its most enchanting, fairyland-like place when night falls for six weeks starting the middle of November, Building facades by this road are also competing for the Best Dressed Building award.

Tanglin Mall to Plaza Singapura boasts a 2.2-kilometer stretch of decorated trees, dazzling holiday lights and beautifully-adorned majestic arches. A myriad of street performances are sure to make this season a special time. Plus, eating is a favorite past time in the state, expect cuisines of various prices from the extravagant prices to dirt cheap prices yet tummy-filled menu.
Tokyo, Japan
Contrary to most stereotypes, Japan's Christmas celebration is undoubtedly one to make our beloved ones' feelings cheer up.
One can take the Japanese Christmas experience by visiting the Ebisu Garden Place where the giant Christmas tree stands, going to the magical winter-illuminated lawn of Japan's Midtown Park and strolling at the Marunouchi Naka-dori Avenue-an elegant 1.2-kilometer shopping and café district.

For a food trips,: The Roppongi Hills has a Christmas market with hot chocolate, mulled wine, German grilled sausages, and handmade ornaments (daily from 11 a.m. to 9 p.m. for the month preceding Christmas); the same goes for Hibiya Park (daily from 12 p.m. to 10 p.m. in the two weeks leading up to Christmas) and the Tsukiji Fish market, a fabulous place to go for morning sushi (except Wednesdays when it is closed).
Also drop by at Tokyo Sky Tree, where the fabulous winter skyline of Japan can be seen and the Tokyo Tower, where it always celebrates its birthday on December with special lightning displays.
For bargain lovers, the department stores are filled with winter sales until the 25th of December. The prices drop by 10 to 30 per cent. A great time to stock up those balikbayan boxes for families back home.
Hong Kong
Hong Kong is a hot spot for a lot of our beloved OFWs, but don't worry Hong Kong harbors one the world's most festive Christmas there is. (I love HK indeed!)
The Hong Kong WinterFest sees Christmas lights of 40 buildings along Victoria harbor choreographed in a fantastic light show starting from the 4th of December to the 1st of January 2017.
The Christmas Symphony of Lights spreads joy along the Victoria harbor, and joy is free! Yes, visitors sit along the shore at the pedestrian walk called avenue of stars and watch the spectacular light show display for free every night at 8 PM. There will be loudspeakers broadcasting music and accompanying narrative as well.

Pre-christmas sales however aren't rampant here in Hong Kong, prices go high instead. For a good bargain catch, the best places to go are street markets such as Ladies Market in Mongkok (clothing, electronics, souvenirs, pets, jewelry, etc.), Temple Street in Mongkok (a variety of products plus many open-air restaurants for Chinese food), and Stanley Market in Stanley on Hong Kong Island (souvenirs).
Wherever our beloved ones are in the world this coming holiday, one thing is for sure, there's no place like home.