10 Creative Christmas Tree Making Hacks That You Can Do At Home
Creativity matched with resourcefulness is a good life hack and Filipinos have a knack for both! They can make something out of old magazines, recycled bottles, old boxes and drifted woods. As the 25th of December draws closer and so is the spirit of a Filipino Christmas grows merrier!
And a favorite symbol of the much-celebrated season is the Christmas Tree. While there are Christmas Trees available in the market to buy, there are also home made ones that do not require much of a budget.With these Christmas Tree inspiration below, you can create one of your own using available materials at home where you almost don't have to spend anything!
So check them out below, as you get more creative with your home made Christmas Tree, even the Christmas Grinch will want to steal it.
1) Driftwood Christmas Tree
Woods washed on shore or bodies of water can be an ornamental art during the holidays. You just have to take a stroll by the beach (especially in provinces) and you'll find washed woods that are just beautiful to pick up. Its pattern, frame and twisted-like structure is nature's abstract that's left to rot. So gather them and turn nature's debris to turn into our very own homemade Christmas Tree.

2) Newspaper Christmas Tree
It's really simple. You can collect old newspapers, magazines, scratch papers and even those yellow pages of that old phone book and form a tree-like creation this holiday. Buy a spray paint and visit video tutorials to shape papers to your artistic choice just like the photo below.

3) Christmas Tree Bottles
The average time to take the plastic bottles to degrade is 450 years – that's way more time than the Spaniards colonizing the Philippines! So, give back to nature and go green this Christmas! If you're too lazy, you can build a towering tree out of it or if you want a creative challenge, you can do more than stacking bottles.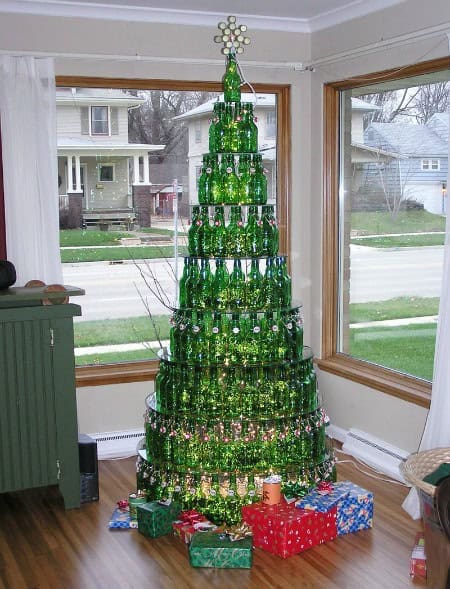 4) Christmas Tree Photo Collage
If you want something hanging on that boring wall this holidays, take black and white photos and form a tree-like collage. Add a little festive flare with Christmas lights and pinned Christmas decorations to create a festive look on the wall.
5) Christmas Tree Ladder
A Christmas Tree ladder? Well, there's no limit to creativity, indeed! If you have a sturdy ladder kept in your storage room, bring them out and dress it up in a fashionably holiday manner. Wrap it with Christmas lights (the one decoration that should be present) and hang some Christmas ornaments such as Santa socks, Christmas balls and anything with a holiday touch.

6) Christmas Tree Snowflake Cutouts
If you've seen a wall art design on bedrooms on the web, then you can have one by your living room wall. Bond with your family to make giant snowflake cutouts and stick them by the wall of just like the photographs. You can add a bit of glitters to the cutouts and Christmas lights to give it a holiday glow. If you don't have any idea how to make a snowflake cutout, you can check video tutorials online.

7) Bamboo Pole Christmas Tree
Indigenous materials such as bamboos are widely available here in the Philippines most especially in rural areas. If you can'y find any bamboos, you can stick to long wooden poles and form a skeletal cone to mirror that of a Christmas tree. Wrap it gorgeously with Christmas lights, garlands and wreaths, then sprawl gifts inside the cylindrical-shaped tree or better overflow it to give an exaggerated holiday treat.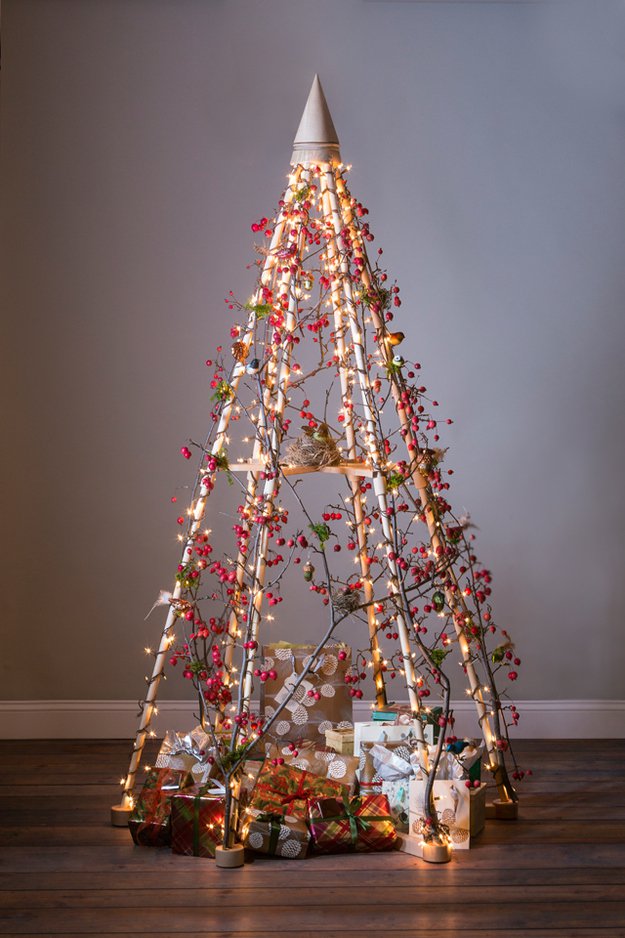 8) Christmas Tree Books
If you are a bookworm hoarding books at your make shift mini library, well, bet there's nothing like a nerdy-themed Christmas doing the trick!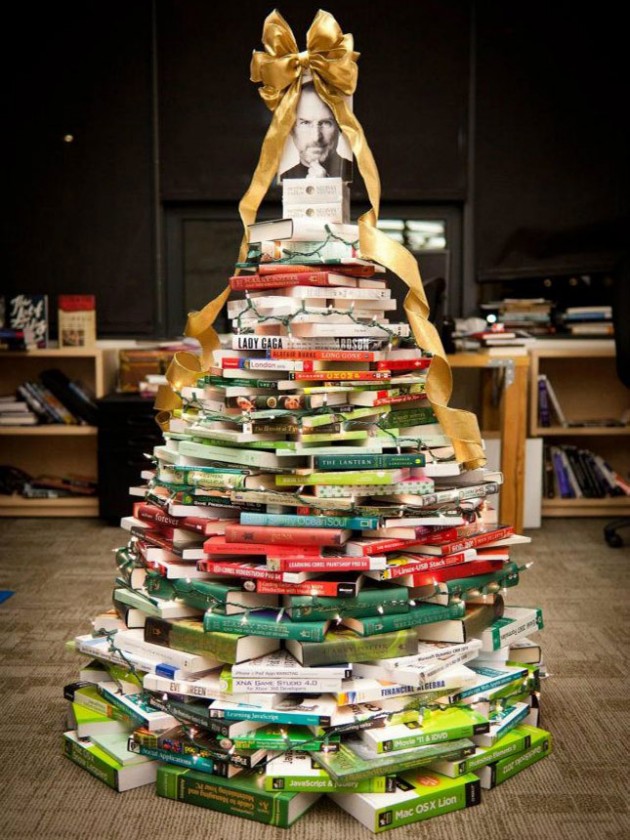 9) Dried Twigs Christmas Tree
Something rustic for Christmas? Go eco-friendly with dried twigs for a Christmas Tree. You can find such twigs in the provinces or at the flea markets like Divisoria. With a Christmas Tree twig, you save more on your Christmas budget for more.

10) Christmas Tree Shoe Boxes
A shoe box can keep a pair of shoes, but ten or more shoe boxes can be an alternative for a Christmas tree! You just have to stock them up into a geometric tree pile as high as you want and place DIY Christmas ornaments to spice up the Christmas spirit.

If you have the creative patience to pull off any of the inspiring Christmas Tree making hacks above, you have no problem with a budget.
But if you really want to get pass all the creative hassle and just buy a Christmas Tree of your choice yet your Christmas budget is not enough, you can always get cash loans from PawnHero. At PawnHero you can pawn items such as luxury bags, watches, gadgets and other valuable items at home ONLINE! Just download the PawnHero app or visit the PawnHero website to learn more.