It's a good time for business and investments for our country this year as Philippines is seen to be the fastest growing economy in Asia! Really uh-mazing! And with such optimistic news, the opportunity to jump into the entrepreneurial hole couldn't be any better than now! No kidding!
Now, if you are looking to find the best places across the country to begin your biz journey, here's a perceptive map to plot where you can begin marking x for your investment spot.
1) Makati Central Business District
Makati is undoubtedly Philippines' prime business district! As the country's foremost financial and business hub, the city reflects the likes of great cities across the world with its most attractive real estate! This city continues to live its name as the crown jewel and financial capital as countless numbers of businesses, headquarters of blue chip companies, the largest banks and the Philippine Stock Exchange, among others, are located.
Adding up to Makati as an ideal place to start a business is its prestige address. Having such power address means your business can be globally trusted. An Ayala address is liken to having an address on Singapore's Orchard Road or New York's Wall Street if you ask us.
2) Ortigas Central Business District
As the crossroad of two major cities, Makati and Quezon City, Ortigas marks as one of the best places for businesses. Being an easy-access location to the major thoroughfares of Metro Manila, C5 and EDSA,  Ortigas is the center of Metro Manila. Aside from that, Ortigas is eyed for upcoming redevelopment programs from major developers, the shared ownership of Ayala land and SMDC to the Ortigas and Company limited partnership who formerly handles the Ortigas Central Business District
3) Quezon City Business District
The city of stars as it is tagged is set to compete with Makati CBD. With such ambitious project development on the works, QC becomes an untapped opportunity to put a business in one premiere address. Alongside, the city stretches to three major MRT stations from Kamuning, Quezon Avenue to North EDSA station and in the future, the main exchange of MRT 7, LRT 1 and MRT 2, this gives the city a big edge of accessibility for all.
Plus, as a suburban area, businesses here are closer to the needs of the household.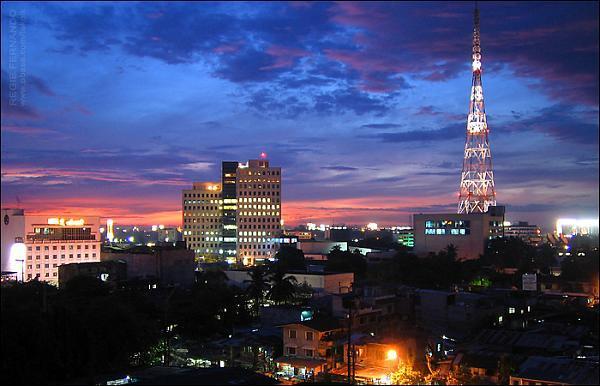 4) Cebu 
The Queen of the South, the oldest city in the country and the  capital of the Visayas region is another place that not to miss when starting a business in the country.
Seemingly an improved version of Metro Manila, Cebu attracts the biz as a top location because of its relaxing ambiance and resort-like feeling. It's like mixing business with pleasure.
5) Davao
The ease of doing business in Davao gives it a spot as the top locations for businesses in the country. Being hailed as one of the most disciplined cities of the Philippines, boasting low crime rate and public service efficiency, there's a lot of reasons Davao is a conducive place for your baby investment.
And as the Singapore of the Philippines, it now attracts more business potentials since the current highest office power of the country uses Davao as an alternative office place.
6) Cagayan De Oro
Another place from down South of the country, the gateway to the vast and largely untapped human capital potential of Northern Mindanao, Cagayan  De Oro makes it another A-spot for budding entrepreneurs.
A significant number of growing BPO offices due to affordability of office space and skilled workers proves the point as to why CDO is another potential place for your young business.
7) Pampanga 
Strategically located where the future  international airport of the Philippines will be, Pampanga is on the road to becoming the Green City of the Philippines.  Having one of the biggest land area in the country, the potential and opportunity to start a business are great as well.
Also, Pampanga has nearby free ports which can serve as a potential trade and tourism hub that are important for any business.
8) Taguig
Currently considered as the fastest growing central business district in the Philippines, Taguig City is sure to make the cut as a top-tier hub for business in the Philippines. From a ten-year timeline, Taguig has come from an empty military base to what is now known as the new capital for business in the country. With LEED (Leadership in Energy and Environmental Design) accredited skyscrapers meaning that buildings were designed and built in a sway that would improve energy savings, water efficiency, indoor environmental quality, and CO2 emissions reduction, the city has established its place as an expat's investment grounds.
The success of a  compressed version of a modern Philippines like that from first-world countries created a ripple effect, wherein other locations within Taguig aside from Bonifacio Global City started to develop, from West Mckinley. Jusmag, Arka South, down to FTI.
9) Pasay
Known as the gateway to the Philippines, Pasay holds Manila's International airport. The Skyway Stage 3 highway easily connects North and South of the Philippines. Pasay has become another thriving spot for businesses to grow as it has evolve itself  from a retail complex to a burgeoning business and leisure destination of the country. Here the biggest events from concerts to conferences to exhibition to gaming is found. Pasay has secured its identity not only for business but as an entertainment capital, not only in the Philippines but in Asia.
10) Alabang
The center business district of the south, Alabang, is the place where huge number of upper middle class have settled. Alabang provides a leisurely yet business-oriented development without much the hustle and bustle. The city  provides a breather from a typical skyscraper backdrop thanks to the the surrounding suburban atmosphere.
In any case you need extra capital to get your dream business to work, you can always get quick cash loans from PawnHero .
PawnHero is your go and beyond online pawnshop that is always here to give you access to affordable credit and to answer your short-term cash needs! PawnHero accepts a wide variety of items to give you quick cash loans anytime, anywhere. Just download the PawnHero app to start or visit the PawnHero website to learn more.
Don't forget to like PawnHero Philippines on Facebook, Twitter and Instagram to get updates, join games and in cash prizes.
The following two tabs change content below.
Jhon Kenneth Delos Reyes
Kenneth finds his heart through writing. He is a mortal open for romance, adventures and experiences. He is an imaginative owl by night and advocates humanity, beauty, love and nature by day.
Latest posts by Jhon Kenneth Delos Reyes (see all)