Why Buying Designer Bags Are Financially Rewarding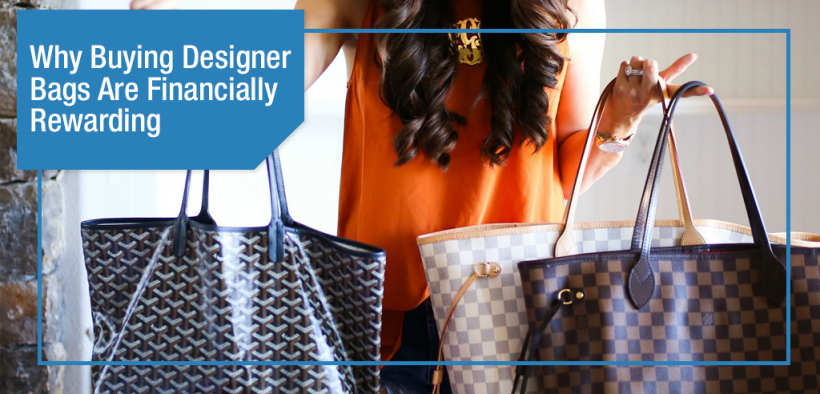 Designer bags are to die for! While some would consider these material things preposterous spending, Chanel, Hermes, Louis Vuitton, Balenciaga, among others are not just called a luxury for nothing. In fact, their value has increased 500 per cent for the last 35 years (scoffs Hermes Birkin bags). If you want to splurge on material things that could hold value over time, then a designer bag is the way to go.
Hence, here are reasons to convince you why buying one is financially rewarding. As the saying goes, "It's not just a bag! It's a designer bag!"
1) Because designer bags are of highest quality.
Cliche' as it may sound but designer bags can prove that you get what you pay for. One of the top reasons why designer bags are a wardrobe investment is because these handbags are crafted from the finest quality of materials by extraordinary skilled artisans holding its value. Made with amazing materials and hours of creation, these bags are designed to stand the test of time, like those Louis Vuittons which is reported to be fireproof and waterproof (so that's what they say).
Louis Vuitton Neverfull MM Monogram Canvas
2) Because designer bags never go out of style.
Considered to be timeless pieces, designer bags will be a trend until, nobody know's when. Since both the designer bags and the designers are highly regarded in the fashion world, that bag from season's past will never be looked down upon. Hermes' Birkin bags are great examples of classic pieces that transcend from generation to generation.
Rare Hermes Crocodile Himalayan Birkin
3) Because designer bag prices have risen so much in recent years and some gain value over item.
Designer bags that gained world-renowned reputation -say the Lady Dior bag, which amassed success after it got linked with the most photographed woman in the world at her time, the late Princess Diana- which can hold its resale value. In essence, the value of the handbag is determined by how exclusive it is and the designer that it's coming from. For instance, the Chanel 2.55 classic flap bag increases yearly. Definitely, designer bags such as Chanel, Balenciaga, Yves St. Laurent, Gucci and many more of the greats can go a long way.
Chanel 2.55 Classic Flap Bag
4) Because let's face it, designer bags are akin to status.
Honestly, whenever you have that designer accessory with you, it just feels like it's an exciting life to live. This is not to say that the happiness comes in the form of luxurious material things, but there's something with designer bags that give the allure about status and wealth. If people see you with a designer bag, they tend to see you as a million bucks.
Lady Dior
5) Because everyone has some kind of expensive hobby.
What make designer bags such fine collection is because of its craftsmanship and amazing quality prints and design -yes, we're highlighting why it's a luxury! For some, they have become some kind of expensive hobby, and why not? Audrey Hepburn, one of pop culture's iconic faces, is responsible for the creation of the LV speedy bag as we know it. We can't blame why designer bags are a penchant! Who wouldn't want to have a carry on made popular by Princess Diana (Lady Dior), Grace Kelly (Kelly bag) and Audrey Hepburn (speedy bag) right?

Louis Vuitton Speedy Bag
6) Because you celebrate a milestone.
You have all the right to reward yourself. If you reach a goal and consider it a milestone, why, pamper yourself, get your very own designer bag. You don't have to buy new ones, there are preloved designer bags in the market that will just do. You can buy one from Marketplace.ph yourself then flaunt it like a queen!
Legend Alexander McQueen
7) Because there's nothing like keeping an original.
LV bags are one of the most counterfeited designer brands in the world! Now to own an original feels rewarding. It makes you feel confident because for one, you can afford it. Two, the designer bag is a status symbol that can empower you.

Yves Saint Laurent Bag
8) Because owning a luxury good improves mood.
No wonder it feels good to own a designer bag! A study of Hudders and Pandelaere showed that the frequent spending on luxury brands is positively related to Satisfaction With Life (SWL). This means that buying a designer bag, for instance, has a more positive impact on your well-being than spending on less branded counterparts (excuse me H&M bags).

Gucci GG Supreme Top Handle Bag
Shop your dream bag!
Owning and flaunting a designer bag is your human right! If you want to have that Chanel, Louis Vuitton, Balenciaga, Kate Spade among others, then you can score amazing deals on preloved designer bags at Marketplace.ph! Shop your heart out and find the designer bag that fits your personality. After all, it's not just a bag, it's a designer bag!