Pawnshop Loans vs. Other Loan Types: A Visual Comparison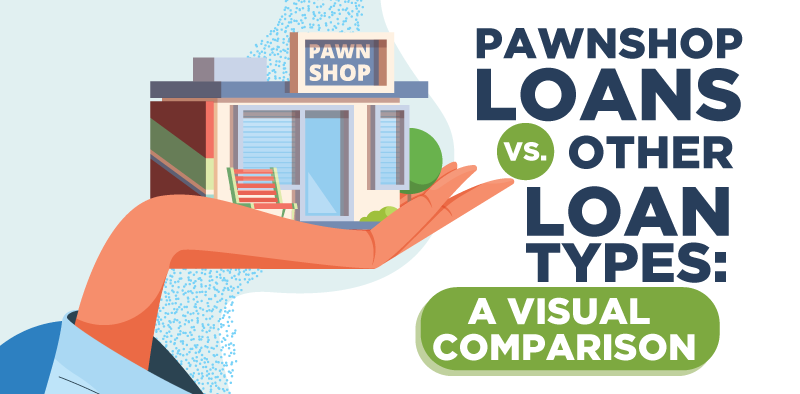 Whether it's to repay debt, pay unexpected bills, or fund a repair or renovation, people have been borrowing and lending money for a long time. You have friends, family members, employers, banks and other financial institutions, and pawnshops to borrow money from. With the many options you have out there, the question stands: which loan type is the best for some instant cash?
What are Pawnshop Loans?
Pawnshop loans have become one of the most popular ways of borrowing money today. In the U.S., about 30 million Americans frequent 11,800 pawn shops hoping to secure a loan in exchange for a personal item. In the Philippines, more than 18,500 pawn shops provide loans that are more accessible than traditional alternatives to 51.2 million unbanked Filipinos.
How does it work? Individuals who wish to borrow money provide personal items as collateral in exchange for a secured loan. It's one of the best options families or individuals struck with financial shortcomings can turn to since pawnshop loans don't require a credit check to lend the money.
Here's a visual comparison that will give enlightenment on the distinction of pawnshop loans from other financing methods. Let's get started!
The Pros and Cons of Pawnshop Loans
Since applying for a pawnshop loan doesn't involve a lengthy application process and a credit check, it serves as a convenient and fast way to borrow money. This is especially attractive for people who are unbanked and don't have a good credit standing. The way these short-term loans work is also easy and direct—your loan amount is based on the asset's value to be pawned.
For example, you can bring a valuable piece of jewelry to the pawnshop, and they will assess its value. Once the pawnbroker determines the value, they will tell you the loan amount up to the appraised value of the collateral.
The good thing about pawning is it doesn't come with the hurdles and strict requirements of a traditional loan. As long as you're of legal age, all you need are valid IDs and an item to use as collateral to secure a loan. Moreover, you don't have to worry about persistent debt collectors if you default on the loan (but best avoid this). Instead, the pawnshop will keep whatever item you pawned.
Meanwhile, the biggest downside of pawnshop loans is their cost. Some pawnshops charge high interest rates, plus the additional fees they charge for storage or renewing the new term loan. You must do your due diligence to find a reliable pawnshop service that won't leave you high and dry.
Other Loan Methods
Personal Loan
Personal loans let you borrow money without collateral. The borrower only needs to show they have enough income and credit history to prove that they can repay the loan. With this, you can borrow any amount and will be given ample time to pay it back.
The downsides of personal loans include high interest rates, application and origination fees, and fixed payments you need to accomplish on time.
Credit Card
Using your credit card to borrow money is certainly convenient and fast. One swipe and you get to purchase what you wouldn't otherwise have afforded if you used cash. With responsible use, you can build your credit and earn rewards.
However, credit card cash advance rates can be either a minimum flat rate or a percentage of the amount advanced. Moreover, they often have high interest fees. You have to review the terms and conditions before you push through with the credit card cash advance.
Salary Advance
If you're only in need of a small amount to cover your bills or unplanned expenses, you can ask your employer for a payroll advance where you will be handed a portion of your next paycheck. It's convenient and readily available when you need it and the chances of getting the request turned down are slim.
The downside is it could easily put you in a vicious debt cycle. Since you will receive less of your paycheck the subsequent month, you may find yourself short on cash, causing you to get another short-term loan.
Peer-to-Peer Loan
A peer-to-peer loan is commonly used by small business owners looking for funds without reaching out to banks. Investors will bid on the loan request and offer the amount they are willing to invest along with the interest they wish to receive. It's a no-frills way to obtain a significant loan amount in a short amount of time.
The drawback is that borrowers need to pitch their business to a broader audience to attract investors and gain the required funding. Moreover, some of your personal information may be required for public record, stripping you away of your anonymity.
Pawn It with PawnHero
PawnHero makes it a breeze for people in need of fast cash to borrow money anytime, anywhere. Customers only need to present their collateral (e.g., jewelry, designer bags, luxury watches, high-end gadgets, etc.) and two valid government IDs for the pawn request—no long and complicated forms or documents needed. With PawnHero Pawnshop, interest rates start at only 2.99%, which is lower than brick-and-mortar pawnshop loans.
Cash is released through bank deposit (InstaPay or PESONet) and other electronic payout options the same day the items are appraised. Moreover, hidden costs, or penalty fees for late-payments or loan renewals.
Final Thoughts
Pawnshop loans, credit cards, salary advance—these are all convenient ways to borrow money. But they're not ideal for all financial situations. You have to carefully assess your needs and weigh your options to choose which loan method is best for you.
If you need quick cash, pawn away! Contact us at PawnHero Pawnshop, your reliable pawnshop in the Philippines and get a free estimate for your item today!