Pawnina Shares: Halloween Promo Tactics Your Business Can Pick-up From Watching Horror Movies Alone
Hey guys, Pawnina here! Before the cheerful chill of the Christmas season, we get shivering feels, not from the holiday cold, but from the Halloween break (Awoooooo). Time to get those boxes of blockbuster DVDs from the closet and blow away those cobwebs (vintage is not ancient by the way) because we got a long scream fright ahead (laughs incessantly).
Don't close your eyes tho, we're not here to discuss a film review, we're here to use the horror movies as inspiration to our Halloween promo ideas. Here's a fun fact, a 2014 study, entitled "The Impact of Fear on Emotional Brand Attachment," revealed that consumers experiencing fear while watching a film feel a greater affiliation with a present brand than those who watch films evoking happiness, sadness or excitement. Very interesting!
So, let's snatch the mojo from those horror films and understand how we can pick-up Halloween promo tactics from watching them alone.
The formula of Mystery
What's the missing link? Horror movies always have the formula for mystery. This leaves you hooked to the story.
Let's take "The Blair Witch Project" film as an example. This 1999 micro-budget blockbuster had a $60,000 budget for production. Surprisingly, it smashed a global box office with a whopping $248 million. The catch from this film is the mystery it evokes! Being the first widely thought film to market it through the internet, the filmmakers made efforts to promulgate that the events were factual, even made listings of actors as missing and presumed dead on the first year at the IMDb page and people got into that shrouded pseudo mystery. It worked!

The takeaway promo:
Mystery has real benefits with businesses. A research noted that consumers buy more when there's a mystery involved. It highlights that shoppers are more likely to buy that product if the type of gift is unknown than if the type of gift is revealed.This is best seen from purchasing high-end make-up and perfumes which both uses "free gift" promotions. That being said, a promo that elicits mysteriousness is a good idea. Let's say try having a "FREE MYSTERY GIFT PROMO" with every blank amount of purchase.
The element of Surprise
Good horror movies leave people talking about it. An unexpected ending, a twist in the plot, a wide-eye and jaw dropping moment, all elicits the element of surprise. The effect of surprise results to a word of mouth fiesta. Let's take the 2009 horror film, Paranormal Activity, for instance. It drew a lot of attention leading it to become (officially) the most profitable film of all time! It grossed $193 million worldwide from a $15,000 dollar production budget! Feels great right!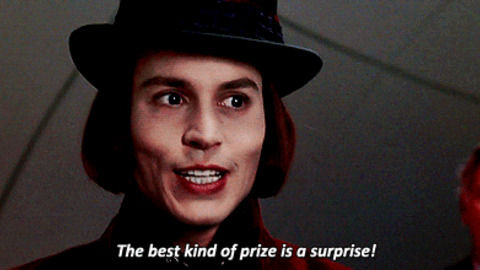 The takeaway promo:

Remember the fascinating study about waiters getting a higher tip after leaving pieces of candy with the check? Well, the principle of reciprocity best explains that. In social psychology, reciprocity is a social rule that says people should repay, in kind, what another person has provided for them. So, give something that surprises your customers. A freebie perhaps can be a good promo this Halloween. It's a surprise for a surprise, give 'em that.
The concoction of thrill and suspense
Thrill and suspense on horror films keep moviegoers entertained. Heightened emotions from cliff-hanging scenes are usually one of the adrenaline pumping perks people experience. A number of low-budget horror films can be cited as an example with thrill and suspense, such as Saw, The Texas Chainsaw Massacre, The Purge: Anarchy among others, all of which rack box office numbers worldwide!

The takeaway promo:
The suspense is killing me! Ever felt that way when lining up for an opening of a favorite store? Well, here's what we can learn from the thrill of suspense of horror films! Suspense on promos gives excitement, the rush to get their hands to what you are offering in a business is what your customers are after for. You don't want to reveal everything just yet, and contests are great Halloween promo tactics to keep customers engage.
If you need just a little budget for your Halloween business promo tactics, well, PawnHero is always here to scare your worries away. Just visit the website to learn how. You can also download the PawnHero app so you don't have to rush from pawnshop and pawnshop. With the app on your phones, you can pawn anytime, anywhere.
In case you want to go online shopping for a budget, visit Marketplace.ph, where authentic pre-loved items meet bargain prices. And catch a Halloween trick-or-treat contest by liking PawnHero Philippines and Marketplace by PawnHero on Facebook.