Noche Buena Favorites You Can't Wait To Chow Down This Christmas
What makes Christmas eve something to look forward to? The food, of course! The thought of those home-cooked holiday specialty of your grandma, your mama, your papa or whoever is the talented house chef excites your taste buds and tummy-rumbling Christmas spirit!
Aside from those specialties comes your favorite Noche Buena dishes! A staple menu that you always look forward to every December 25th!
Now with only a few days away, you can't wait to have a taste of Christmas, literally. Below is a list that will make your Christmas cravings a serious problem that needs kitchen attention.
1) Macaroni Salad/Fruit Salad
The dessert that never leaves the Pinoy Christmas feast is the favorite salad. Like most desserts, this dish is best served cold. The sweet taste of macaroni salad, fruit salad or buko salad will make your Christmas hunger satisfied!

2) Rice cakes or Pinoy desserts
Of course, while we get an influence of Italian, Spanish and American flavors on our Christmas menu, nothing beats the presence of tradition with the Pinoy native desserts. There are a number of favorite rice cakes and pinoy desserts that are a staple on the Noche Buena table. We have the puto, biko, maja blanca and many proudly made Pinoy delicacies.

3) Christmas Fruits
While the basket of 13 fruits displayed is a New Year tradition, Christmas fruits also adds up to the Pinoy festivity.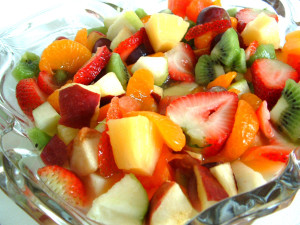 Image source
4) Hamonado
This Filipino dish is a testament to the resourcefulness of a Pinoy cook. It is a simple cuisine, usually a pork or a chicken dish cooked with pineapple juice and sugar.

5) Queso De Bola
The Queso de Bola makes the Pinoy holiday banquet complete. This "ball of cheese" comes from our Spanish heritage and has been part of our local Noche Buena feast for as long as anyone of us can remember. Coated with red wax giving a festive appearance, the cheese has a very mild flavor, slightly salty with almost no smell when compared to other cheeses which gives a break from all the sweetness from most of the other dishes in this list. And much like a wine, as the cheese ages, its flavor sharpens, and it becomes firmer.

6) Lechon
Lechon or roasted pork is another dish we got from the Spaniards. This staple is also a symbol of festivity and celebration.

7) Hamon de bola
Another popular Christmas dish is the Christmas ham. A world-staple, the Pinoy palate favors the sweet variety.

8) Pancit
Seen as a symbol of long life, this Filipino cuisine, pancit or pansit are noodles which we adopted from the Chinese.

9) Spaghetti
Spaghetti is an Italian pasta which is also a favorite dish during Christmas. However, the Pinoy style spaghetti is what separates it from the rest of the spaghetti dish. Unlike its counterparts, the Pinoy version has a sweet tomato based sauce with lots of meat ingredients such as ground pork and hot dogs. Yum!

10) BBQ
Pork tops the list of grilled foods during Christmas. You can also have the smoked fish stuffed with veggies.

As it is the holidays, it's also the perfect excuse for cheat day, or make it cheat week! Satisfy those cravings this coming Christmas with a buffet of Noche Buena favorites! If you need a little extra to have a near-perfect Noche Buena, then PawnHero is here to help. PawnHero is your go and beyond online pawnshop that accepts a wide variety of items to provide you with quick cash loans, all at your convenience. Just start by downloading the PawnHero app or visit the PawnHero website.
Don't forget to like and follow PawnHero Philippines to get updates, join games and win cash prizes.