LOOK: Thirteen Fast Facts About The 13th Month Pay
Call it Christmas bonuses or a salary blessing, but the 13th month pay is a right granted by the Labor Code of the Philippines. This benefit is entitled to rank-and-file employees regardless of status as long as he/she has worked at least one month in the company.
How is the 13th month pay computed?
The 13th month pay computation is based on the total basic monthly salary of an employee for the whole year, divided by 12 months. Thus: "13 month pay = total basic salary earned during the year / 12"
Therefore when an employee's basic salary is Php 15,000 and had worked for 8 months, the 13th month computation is calculated as such: (Php 15,000 x 8 months)/12 = Php 10,000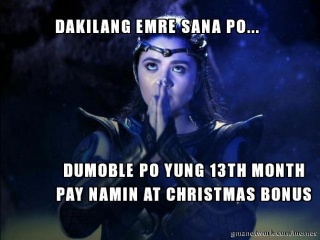 According to our law, the 13th month pay should be released not later than the 24th of December. So while waiting for our 13th month salary, check out these 13 fast facts below:
1) The 13th month pay is one of the mandatory benefits of an employee here in the Philippines. This means it's your right, and you have the right to sue.
2) It started during the Marcos regime through Presidential Decree No. 851.
3) The sole purpose of issuing this decree was "so that they may properly celebrate Christmas and New Year."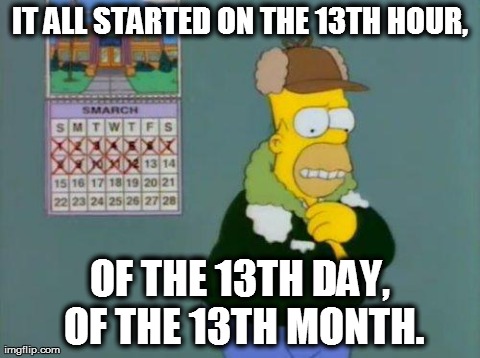 4) During the time it was implemented (1975), the only people who are entitled to this benefit are employees with less than PHP 1,000/month.
5) Pres. Cory Aquino (1986) amended the law to include all employees, regardless if they are earning less than or higher than PHP 1,000.
On August 13, 1986, Pres. Aquino, through Memorandum Order No. 28, removed the salary ceiling of P1,000. With the removal of the salary ceiling, all rank and file employees become entitled to a 13th month pay regardless of the amount of their monthly basic salary (unless their employers are exempted from the application of PD 851).
6) The logic behind 13th month pay was to force the employee to save. So, instead of going on a spending spree, take this opportunity for you to save and invest.

7) Under Section 32B, Chapter VI of R. A. No. 8424, a 13th month pay that exceeds Php 30,000 becomes subjected to tax. However, since January 01,2015, Republic Act (R.A.) No. 10653 ruled that the 13th month pay becomes taxable if the total pay is more than Php 82,000. Otherwise, you will be able to receive your 13 month pay in full, without any taxes or deductions.
8) Maternity leave benefits are not included in the computation of 13th month pay.
9) Employees excluded from coverage of 13th month pay law:
Managerial employees;
Those covered under the civil service law;
Those already receiving 13th month pay or its equivalent. Christmas bonus, mid-year bonus, cash bonuses and other payments amounting to not less than 1/12 of the basic salary are treated as equivalent of 13th month pay;
Household helpers and persons in the personal service of another; and
Those paid on purely commission, boundary, or task basis, and those who are paid fixed amount for performing specific work except those paid on a piece-rate basis.
NOTE: A managerial employee is one who is vested with powers or prerogatives to lay down and execute management policies and/or to hire, transfer, suspend, lay off, recall, discharge, assign, or discipline employees, or to effectively recommend such managerial actions. All employees not falling within this definition are considered rank-and file employees.
10) Employees with multiple employers are entitled to a 13th month pay from all their private employers.

11) Resigned or separated employees are also entitled of the 13th month pay given that they had rendered at least one month. The payment may be demanded by the employee upon the cessation of employment.
12) As of 2014, Italy, Mexico, Nicaragua, Chile, Columbia, Argentina, the Philippines and Brazil are countries that require employers to pay employees a 13-month salary. In these countries, the disbursement of this payment is required to be done in December.
13) A 14th month pay bill entitled "An Act Requiring Employers In the Private Sector to Pay 14th Month Pay" was proposed by Senator Vic Sotto III but was opposed by sectors of the government and the Employers Confederation of the Philippines.
There you go! Now, as a financial advice: Always spend your 13th month pay wisely!

The 13th month pay may be a solution to your financial needs but if that's not giving you enough, you can always get cash loans at PawnHero. This is your go and beyond online pawnshop that accepts more than just jewelry. You can download the PawnHero app now and get started or visit the PawnHero website to learn more.
Don't forget to follow PawnHero Philippines on Facebook, Instagram and Twitter to get updates, join games and win cash prizes.
Sources: Philippine Labor Laws website ,Department of Labor and Employment website , The Philippine Government Website