How 5 Young Filipino Entrepreneurs Made It Big
Back in 2005, the late founder and CEO of Apple, Steve Jobs gave an inspiring commencement address to the graduates of Stanford University. In his speech, he talked about the decisions he had to make and the concept he had about life. He told the graduates to follow their hearts, fall in love in what they will do, and "don't settle."
Are you in love with what you are doing? If you're among the Filipino workforce who's getting used to your regular job and having a business has always been the dream, go for it. It is never too late to start. Remember that not every business idea is gold, and not all start-up companies grow to become conglomerates.
However, starting early gives you the advantage to afford "failures." Being a young Filipino entrepreneur, when a business does not go as planned, gives you the privilege to rise back up, dust yourself off, and start all over again.
A lot of Filipino millennials have done it. Be inspired by these millennial entrepreneurs who did not let age define the greatness of their success:
Paul Rivera – Co-founder and Chief Executive Officer of Kalibrr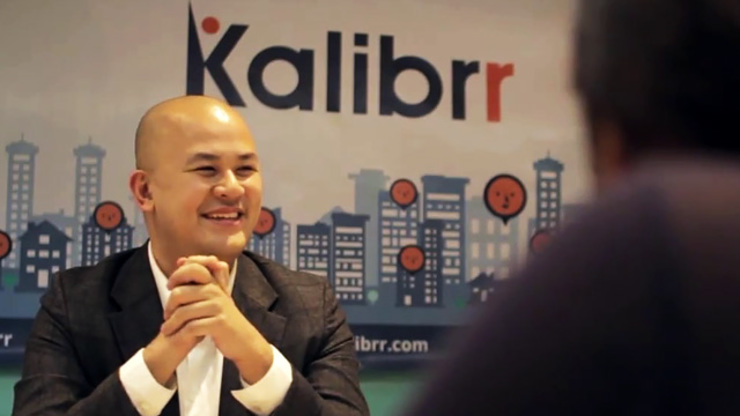 Being a Berkeley graduate and a former employee of Google doesn't hurt to be part of your list of achievements. Paul Rivera's personality, ability, and grit was what made him the success he is today.
Paul has had a journey that's not all glamorous. Having worked as an expat in various countries, he eventually found himself in the glorious company that is Google, only to resign and find himself starting his own business. His first business endeavor – a BPO – was slowly rising until a curve ball hit the company when its major client left the service. This did not deter Paul, as he hustled to make ends meet and realized that there was another opportunity which showed itself as he struggled to keep his BPO alive. That's when Kalibrr came into the picture; Paul realized that there was a gap and disconnect with the hiring processes of BPOs and companies in general. He took that and turned it into a company that is one of the best job-and-profile repositories that matches talents with the right careers.
His determination and grit really shows that when the going gets tough, the tough gets going.
Ifore Yu – Founder and Chief Executive Officer of Chicken Charlie
Who does not love chicken, right? Yu wanted to elevate the local market by creating a product that could compete on a global scale. He did not desire to franchise international brands, but instead, he wanted to bring to light local suppliers. Yu was one of the lucky few.
Back in college, he ventured into sales that allowed him to save up for a business capital. He used his savings to fund and expand Chicken Charlie.
Yu does no regret the bold decision he had made. He believes that the best time to be bold is when you are young because of the energy and ability to balance the pressure it takes to manage your own business.
Juan Miguel Alvarez – Founder and Chief Executive Officer of Potatocodes
Blooming from being a delinquent student, his curiosity for website development ignited a burning passion within him. He knew nothing about programming, but determined as he was, he pushed himself to study the science behind website development. His hard work paid off.
After graduating from college, he turned his passion into a profession and opened Potatocodes, a digital assets agency and consultancy.
Joy Anya Lim – Co-Founder and Managing/Creative Director of Anthill Fabric Gallery
When you think of fabrics, fashion houses or haute couture might be the first thing you think about. Joy Lim had something else in mind.
Lim established Anthill Fabric Gallery, which is an acronym for Alternative Nest and Trading/Training Hub for Indigenous/Ingenious Little Livelihood Seekers.
Anthill Fabric Gallery is a world-class handcrafter of contemporary products like scarf, bowties, and neckties. The company is also a social enterprise and has given livelihood opportunities to three communities of cultural groups.
Lorenz Florendo – Owner of Tatang's
Cebu may be known for its delicious Cebu lechon, but that did not stop the young Florendo from putting up a version of his own.
In 2012, he opened Tatang's Extra Crispy Boneless Lechon. He wanted to change the impression that lechons were only for special occasions. He wanted to serve consumers a great-tasting highly-affordable boneless lechon that is fit to make any day special.

These entrepreneurs have taken charge of their lives and have fulfilled their own dreams instead of someone else's. You don't even have to quit your current job to finance your business. Through PawnHero, the first online pawnshop in the Philippines, you can raise the capital you need right in the comforts of your home.

*Some parts were edited by Gabriel Roberto