Hottest Swimsuit Styles for Summer 2016

Going away on a tropical holiday is never complete without a good OOTD. It's about time you throw away that teenybopper, cherry-printed, ruffled tankini, as 2016 is the year for bolder, sexier pieces! PawnHero compiles this year's hottest swimsuit styles that will warrant you several double-takes on the beach:
Racerfront Bikini

We're sure you've all heard of the racerback back in the early 2000s. That fashion trend is back, only, it now takes a different form. Folks, meet the racerfront bikini. Especially designed to flatter your toned built, this bikini looks perf with your favorite G Shock.
Halter Bikini

The halter bikini is one perfect way to show off your to-die-for shoulders. It accentuates perfectly-toned arms, and flatters almost any body type.
Chambray Bikini

The only chambray/ denim piece you can wear to the beach is a pair of shorts, right? Wrong. You can totally rock a denim or chambray bikini on the beach!
Basic Bikini

The basic bikini never gets old. Add interest by choosing a bikini with unique details, like braided straps. To give your classic beach OOTD some extra oomph, find a piece in an interesting color, such as rose quartz or teal. You can also wear interesting accessories, like a multi-layered necklace or a summer-colored G-Shock.
One-Piece Swimsuits/ Monokinis
One-piece swimsuits or monokinis are perfect for those who wish to flaunt as little skin as possible. You can still look stunning in a monokini with interesting accents. Sport a vintage look in a piece with nautical stripes or look dainty in a monokini with eyelet detail.

Detailed Swimsuit

If you absolutely have no time to hit the gym before going to the beach, a bikini with an intricate detail can help take the attention away from the parts you wish to conceal. A strappy piece, one with frayed ends, or a beaded swimsuit can do the trick.
Crochet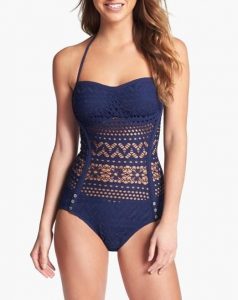 Crochet bikinis are perfect for the bohemian chick. This type of bikini is a good investment, as it can double as a music festival/ rave party ensemble. Pair your crochet bikini top with high-waist shorts and a long, flowy cover up and voila, you have a hot new outfit!
Lace-up

Gone were the days when the only clothing piece you can lace up is the corset. Lace-up bikinis are fast taking the swimsuit scene by storm, and for good reason. Look extra hot in a printed bikini with a lace-up front.
Now that you've got your summer OOTD ready, all you need is some extra budget to help you accomplish all your plans. Try PawnHero today and get some quick emergency cash. We accept everything from Michael Kors and G Shock watches to your old luxury bags, gadgets, and more. Try downloading the PawnHero App on Google Play today, so you can pawn anytime, anywhere.