Concert Tickets? Five Things You Can Do To Get To Watch Your Favorite Band
"Nobody said it was easy
No one ever said it would be this hard"
– The Scientist, A Rush Of Blood To The Head
After rumored speculations, a long wait, broken promises, and many hoaxes…the universe has answered the prayers of many hopeful Coldplay fans in the Philippines!
On an Instagram post, the Grammy award-winning British 90s rock band revealed they're taking Asia by storm this 2017- and YES! That includes the Philippines!
* Insert gasps, cheers and shrieks! *
Their concert tour is leaving everyone in tears… happy and joyful fan tears!
Coldplay is finally coming to the Pearl of the Orient!
However, like most international concert stages, concert tickets are a bit pricey! With Php 22,500 for VIP seats, Php 17,500 for Platinum seats, Php 12,500 for Gold, 7,500 for Silver, 3,500 and 1,800 for Bronze and Gen Ad seats respectively [Source: MMI Live], the prices are just staggering! Here's more, the concert tickets are going on sale on November 24, 10 am to be exact (but there are pre-selling for Globe and Citibank customers before that date)! Yes, it's that fast!


But don't give up just yet! Keep those Coldplay songs playing because if you act fast enough, you might get to watch your favorite band as long as you do one of the five things below to get that concert tickets:
1) Render overtime work. "OT pa more!"
It's not "MAGIC" guys! Money just doesn't grow on trees. You have been dying to listen to your favorite band singing live, so, guess it's time to make use of that overtime wisely. Chip in those extra hours for that extra budget. Get started because you're no "PRINCESS OF CHINA."

2) Use your 13th month pay… if you're lucky to have one.
"DON'T PANIC!" Thank heavens for the 13th month pay, you just got lucky! You can just buy a seat at the concert! Well, we hope your company would take into consideration giving out the 13th month pay as early as November… fingers crossed.

3) Take a sideline job.
Start a car wash, drive your friends to work for pay, proofread theses, do your younger siblings' school works, take that sideline job on the weekends or spend your downtime being productive with cash! Oh! What would you give to go and experience that Coldplay "PARADISE."
Image source
4) Work for your parents or ask from them.
This idea can might as well "FIX YOU" and your dreams to watch them live! Ask your parents if you can do extra work for them or if they just love you unconditionally (or are simply unconditionally generous), ask if they can lend you money, then pay them back in installments. But since the holidays are just around the corner, you COULD ask for an early holiday gift. You'll never know, so try them!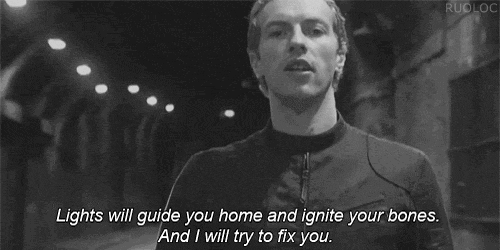 5) Pawn items at PawnHero.
As a last resort, if you've been wishing on a "SKY FULL OF STARS" to really get closer to your favorite band and buy those tickets before they sell out, you can turn to PawnHero for a quick loan! This online pawn shop accepts more than your average pawnshop. You can pawn luxury bags,watches, gadgets and other valuable items (sorry, PawnHero does not accept kidneys, for those willing) that you can find right in your homes. You can download the PawnHero app into your phones to start now or just visit the PawnHero website to learn more.

There you go! No need to do anything drastic to get yourself an "ADVENTURE OF A LIFETIME!" Get yourself those tickets to Coldplay's "A HEAD FULL OF DREAMS" 2017 tour on April 4, 2017! The concert grounds are waiting! Good luck and "VIVA LA VIDA"

Don't forget to like PawnHero Philippines on Facebook, Instagram and Twitter to get updates, join games and win cash prizes.