Click, Share, and Dine: 5 Instagram-Worthy Food Haunts in the Metro
If you're planning to go on a date, to dine somewhere nice, or simply to update your Instagram feed, read on. PawnHero lists 5 places in the Metro that you can visit for a different dining experience:
1. Van Gogh is Bipolar
154H Maginhawa Street
Sikatuna Village, Quezon City


Van Gogh is just the place to satisfy your quirky spirit (and IG timeline!) The photos and art along the walls, the collection of eccentric pieces , and other mismatched, if not outlandish trinkets on display give the restaurant character. The interior is also bathed in dim, multi-colored mood lights, creating a relaxing vibe.
2. Pan de Amerikana
131 Katipunan Avenue,
St. Ignatius Village
White Plains, Quezon City



Pan de Amerikana in White Plains will make you think you stepped into a parallel universe where everything is upside-down. The façade looks every bit like a home. There are flower pots, tilting double-hung windows, picture windows complete with grills and wooden shutters, there is even a Land Rover parked in front—except, everything was upside-down. Inside, you will find tables and chairs suspended from the ceiling, chessboard-themed dining tables, and a bevy of unique, rustic displays.
3. Forget Me Not
41 Lilac St., Hacienda Heights,
Concepcion Dos, Marikina City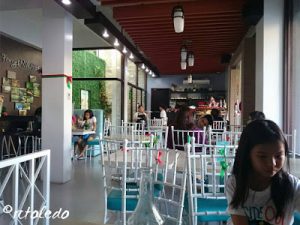 If you're up for a tea-party themed afternoon, Forget Me Not is the place to visit. The restaurant features a hodgepodge of candy-colored couches and white picnic chairs. The walls are lined with interesting photos and their menus that creatively spell the name of the restaurant. The al fresco area is set against a faux grass wall, making a picturesque background.
4. Eggs for Breakfast
21 Don Juan Street
Villa Cecilia Subdivision, Antipolo, Rizal


Upon arriving at Eggs for Breakfast, you will be greeted by a nice garden that leads to the restaurant. They serve comfort food in a place that reminds you of home, complete with friendly reminders on the walls, potted plants, and the kind of decorations Mom is likely to display in your home. While you're waiting for your order, allow the koi at their fishpond to distract you from your worries for a bit.
5. Artsy Café
36 Maginhawa Street,
UP Village, Diliman, Quezon City


If your timeline calls for colors, Artsy Café in Maginhawa is the place for you. The interior features interesting art, colorful lamps and tables, and decorative dinnerware. The rustic al fresco area, on the other hand, contains multi-colored chairs, faded tables, and colorful side tables that are reminiscent of a porch of a house by the beach.
Update your Instagram feed and spoil your tummy by any (or all) of these beautiful restaurants. Get extra cash food trip budget by pawning your items with PawnHero! We accept almost anything, and give the best possible appraisal. Our monthly interest rate is fixed at 2.99%–that's half the interest rate of your traditional pawnshops. Download the app on Google Play today to enjoy a quick, hassle-free pawning experience.