90s Fashion Trends that are Making a Comeback in 2016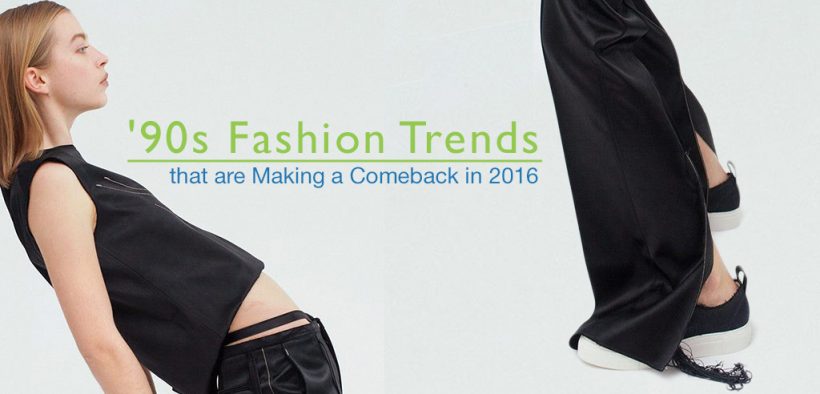 In the 90s, we were probably not as fashion-conscious as we are now. Back then, you were probably clad in whatever your Mom pulls out of the closet. And let's face it, in her rushed attempt to get you both out of the house so you could both get home early in time for Mara Clara or Saan Ka Man Naroroon, you don't always look so fashionable.
Luckily, the adage "lightning don't strike the same place twice" isn't really applicable in the world of fashion, as 90s fashion trends are making a comeback! It's time to rummage through your Mom's closet and dust off those bags that laid there for decades, as the same pieces that embarrassed you in the playground can make you the most fashionable chick on the streets.
There are some throwback styles we would definitely rather forget (think butterfly clips, . To help you decipher, Pawnhero lists 90s fashion trends that are making a comeback this 2016:
1. Overalls
Then: Here is Katie Holmes during her Dawson's Creek era, looking tomboy-cute in denim overalls.
Now: Today's overalls are trendier, and they flatter the body shape better.
2. Sunflower Prints
Sunflower-printed pieces are such a huge hit in the 90s! This was the era that Kate Moss emerged as the ultimate style icon, hence older fashion pieces looked more waify, compared to today's figure-flattering designs.
Sunflower prints are so back! It catapulted into popularity in the summer of 2016 because what else can remind you of the warm, glorious summer sunshine other than this pretty bloom? Other fun-spirited fashion girls go for pineapple prints over sunflower, and it's just as awesome!
3. Sunflower Overalls
A sunflower overall is the quintessential 90s-fashion piece, as it fuses two iconic design elements of that era. This is the go-to piece for those who looking for the perfect balance between grunge and flower child.

Today's sunflower overalls are less reminiscent of those Cabbage Patch dolls we loved as a kid, but still as fun!

4. Chokers

We all know how it was to save our baon so we could get one of these nylon faux-tattoo chokers. Though we probably cringe with the thought that seeing the thing on Jolina was what piqued our interest in the thing.

Chokers these days look so much trendier, as they are usually paired with a gold necklace or multi-layered ones.
5. Button-Up Mini


Button-up minis have seen so many variations over the years. From basic denim button-ups came minis of other materials such as suede or velvet.
6. High-Rise Pants/ Shorts


High-rise bottoms now take on different names. Others call it highwaist pants, some refer to it as boyfriend jeans. But whatever we call it, high-rise bottoms will always be a staple in many fashionistas' closet for the way it combines both form and function.
7. Loose, Ripped Pants


Ripped pants just never go out of style! Fashion girls and boys these days, however, found a special technique in folding a pair of basic pants, called pin rolling.
8. Crop Tops

Crop tops are probably one of the trendiest pieces in the 90s. Clueless' Cher Horrowitz (Alicia Serstone) the Queen of 90s Fashion herself, agrees.

Today, a furry crop top may be seen as tacky, but back then, it was totally cool thing to wear. The crop tops of today are more structured, and they incorporate other in
Plaid/ Striped Tops
Who knew your childhood self actually had some serious style potential? Update your wardrobe with pieces inspired by the 90s fashion! Don't let budget get in the way. PawnHero is here to give you access o quick cash, whatever your needs.