5 Low Cost Ways to Improve Your Business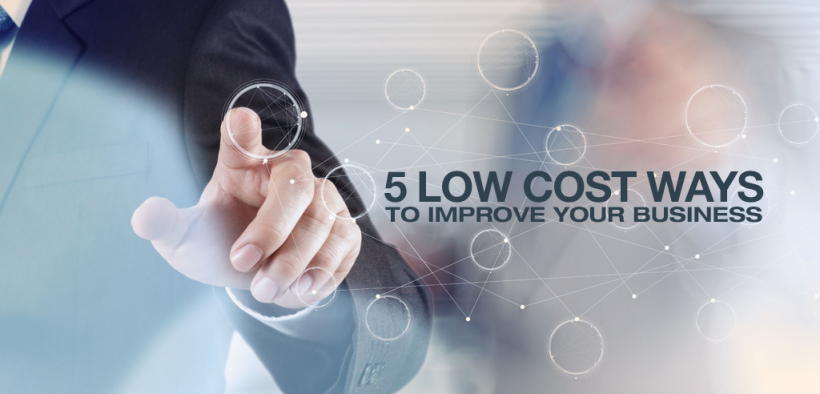 If you're already a business owner, you're probably looking for ways to keep your business growing and improving. However, the words growth and improvement often connotes having to spend a lot, whether it be a physical expansion of your store/set up of more branches, hiring more manpower, and so on and so forth. In reality, there are ways to improve your business without having to spend too much or none at all! It's all about thinking outside the box, allowing you get more out of your business for a whole lot less. Here are five ways to improve your business without having to spend too much – if not any – money at all:
1. Improve your customer service
Nothing beats great service, whether you are actually providing a service or selling a product. It creates great mileage in terms of word-of-mouth, and even better, it create loyalty with your patrons. Improving customer service costs almost nothing, and only requires a lot of time, patience, and attention to detail.
For those providing service, it's worth it to invest time (and some food) in training your staff or employees, making sure they live and breathe the basics of great service while pushing them to do even more. A perfect example is running a food stall; make sure your employees greet every customer with a smile and go above and beyond by making each customer feel valued by knowing their name when they place an order.
As for those selling products, go above and beyond by making sure each delivery or item passes quality assurance. The quality of your products speaks for your service. It doesn't end there, however; you need to ensure that the after-sales service is courteous, timely, and gets the job done without much hassle to the customer. Do this right, and you'll see your patrons spread the word for you that your product and service are the best in town.
2. Expand online
This is obvious for most businesses that sell products, but services can benefit from expanding online as well. Nowadays, almost everything is done online – from renewing your passport all the way to pawning (ahem) – so naturally, your business should have an online presence as well.
Having an online website for your business is relatively easy with all these e-commerce ready-to-go site builders popping up (might I suggest checking out Shoppee or Shopify). If customers can search you online, it usually adds to your validity as a business, plus it's a great way for you to ensure that they know what products and services you are offering and how they can get them from you. Having that online presence will not only make you seem credible, but it will also expand your customer-base and make sure your business is visible 24/7.
3. Engage on social media
Having a social media footprint is important now. Facebook, Instagram, Twitter, etc. are literally the EDSA, C5, SLEX, and NLEX of cyberspace, and being visible there is definitely important. That's why it's very beneficial to create a page for your business and start posting relevant content related to your blog. It's absolutely free and you gain awareness and engage your customers, ensuring top-of-mind brand recall. Try posting about topics that relate to your business; for example, if you're a gym, post videos of 5-minute workouts people can do at home. If you have a little more cash to spend, invest in boosting and sponsoring your posts, allowing you to target a lot more people, bringing more brand awareness and engagement. If you're lucky, you'll generate something viral and be remembered for it!
4. Create a community
Creating a community, whether it is online or in real life, is important because that community becomes your natural base for brand ambassadors (and they usually will do it free). Creating a community will help you increase loyalty while also ensuring your business has a group of people ready to welcome the new comers and continuously engage people as they patronize your business.
For example, if you are running a crossfit gym, having a community that has shared passions will make them choose your crossfit box more than the multiple, similar ones nearby since they have friends in your gym. They will also try to get more of their friends to join, becoming brand ambassadors for you, in order to make their crossfit experience more fun. In the case of products, having a community where one can talk about how to care and properly use your items will enable people to maximize your products use while also engaging them for the long-term.
5. Package it nicely
People are naturally visual creatures. If something looks pretty or shiny, they will be drawn to it. With the advent of social media platforms, the goal is to be either "Instagram-worthy" or "Snapchat-worthy" in order to get even more exposure. This is why packaging and presentation is very crucial for every business.
The goal is to find your business's aesthetic – if it's rustic or cute or modern and sleek – and make it visually appealing. For example, third-wave coffee bars tend to go for the rustic look, serving their caffeine in old school medicine bottles or mason jars. If you're a service like an auto detailing shop, go above and beyond and decorate your shop with steel plates and the cold, auto vibes that will make people enjoy being there. Find something quirky and unique about your business and make it stand out above the rest.
Upgrading your business doesn't mean you have to spend on it. It just takes a little more time, effort, and attention to detail in order to get to the next level. But if some cash is required, you can always get a quick and easy loan from PawnHero by pawning your items. It's as easy as downloading the PawnHero App on the Google Play Store or visiting the PawnHero Website to get your free and fair appraisal within the day. No excuses, it's time to step your business game up!