20 Songs to Fire Up Your Road Trip Playlist
We all know that the hazy, lazy days of summer offer the perfect time to embark on an adventure, and so you've already got everything ready. All your travel buddies are game, the car tank's full, and all your bags are packed. Except, you don't have a destination yet. And a playlist. Without good music playing in the background, a road trip is just. Plain. Boring.
So, with the help of the Wandering Weekend Warrior, PawnHero lists five destinations and the perfect songs to get you into the travel vibe:
#TenFeetTAAL – AfroJack and Trabel
Listening to AfroJack and Trabel's Ten Feet Tall while traveling to Taal Volcano will make you feel invincible. Like you can conquer the world. Roll the windows down and feel the soft Batangas breeze and feel every inch the invincible person that you are. You may not be as tall as Taal, not even ten feet tall, but nothing in this world can bring you down.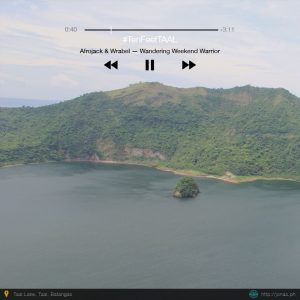 #WeHaveOnlyJustVIGAN – The Carpenters
The Carpenters' "We've Only Just Begun" is the perfect throwback song to jump-start your adventure in the ultimate throwback destination: Vigan. Breathe in. Internalize. Feel the least bit of nostalgia to prepare yourself for a trip along the historic streets of Vigan, and down memory lane.

#TongueTAYID – Grouplove
Grouplove's Tongue Tied will get you feeling all high. This fun, upbeat tune will get you and the entire barkada dancing. "I'll get real high," as the lyrics go. But really, can you go any higher that the tip of the Tayid Lighthouse in Mahatao, Batanes?

#BaLoveBug – Jonas Brothers
While on your way to Mount Balagbag in Rodriguez, Rizal, listen to the Jonas Brothers as they sing about getting all tongue-tied and restless out of love. The roads are rough and the trails are steep, but once you reach the summit, we're sure speechless is all you'll be.

#ALBAYMyself – Charice
If traveling alone is making you painstakingly lonely, as in feel mo na mag walling levels, Charice's version of All By Myself is the perfect sound trip. As they say, "feel the pain until it hurts no more." Travel to Albay, Bicol and feel less lonesome as you take in the glorious view of the Mayon Volcano. Try to hold back your tears when you realize that you and the Cagsawa Ruins have one thing in common: you're both beautifully broken.


Here's a few more songs you can include in your playlist for the ultimate road trip experience:
I'm Gonna Be – The Proclaimers
Let Me In – Grouplove
Raging Fire – Philip Phillips
Dog Days Are Over – Florence + The Machine
Born to Run – Tyler Glenn
Someday We'll Know – Mandy Moore and Jonathan Foreman
Runaway – Bruno Mars
Roses – The Chainsmokers
Skyline Drive – Mae
Folding Stars – Biffy Clyro
Boom Clap – Charli XCX
Cool Kids – Echosmith
Something New – Axwell^Ingrosso
Big Yellow Taxi – Joni Mitchell
I'll Be There For You – The Rembrandts
Life Is Better With You – Michael Franti & Spearhead
Bright – Echosmith
Tenerife Sea – Ed Sheeran
Wings – Birdy
Stand By Me – Tracy Chapman
Somewhere Only We Know – Keane
Chasing the Sun – Sara Bareilles
If everything is set but your budget's getting on the way, let PawnHero help! PawnHero offers quick cash loans 24/7. Pawn your old items with us today using the PawnHero App or learn more by visiting www.pawnhero.ph