10 Everyday Items That Could Earn You P30,000 or More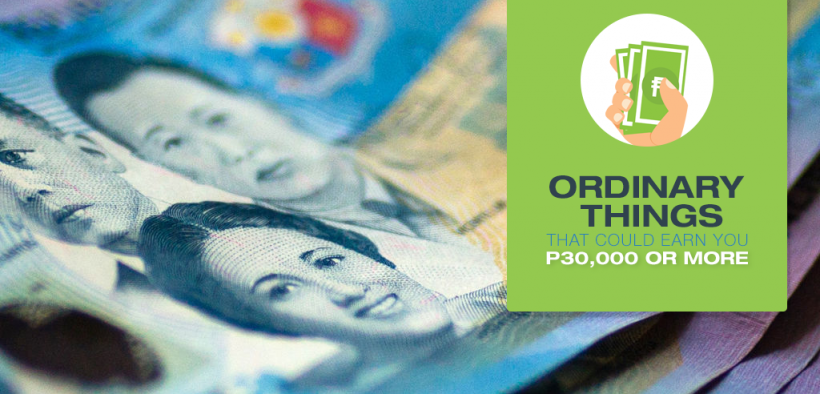 Did you know that some everyday items you barely notice at home can help you earn much? That's right.
If you're having troubles keeping up with your finances, you need not look far for extra cash. Know that you have plenty of solutions such as pawning, and most of the best items you can use as collateral are in the four corners of your home.
Here's a list of the everyday items pawned at PawnHero, giving the owner P30,000.00 and more.
Canon Camera EOS 550D + Lenses + Flash
Appraised Price: P30,000.00
If you're not using your DSLR anymore, why not pawn it? Since the Canon EOS 550D boasts a lot of features (18 MP APS-C CMOS sensor, ISO 100-6400, H:12800, a quick control screen), you're likely to earn P30,000 for this, or even higher if it comes with a flash and other lenses.

Lenovo CPU 4004 H1U
Appraised Price: P30,000.00
With features such as an Intel CoreTM i3-3220T Dual Core Processor (3M Cache, 2.80 GHz) 35W, Windows 7 Professional Preloaded that can be upgradable to Windows 8 (Windows 8 recovery DVD included), 4GB SO-DIMM, and a 500 GB 7200 rpm Hard Drive, this Lenovo CPU is certainly a valuable item which pawnshops would love.
MacBook Pro
Appraised Price: P36,559.00
Among the line of portable computers by Macintosh, the high-end model Apple MacBook Pro has gone through various developments since it was launched in January 2006. It comes in two screen sizes (13 and 15) and two resolutions (non-Retina Display and Retina Display).
Gustave Villaume a French Violin
Appraised Price: P40,000.00
Music enthusiasts know the value of this old French violin by Gustave Villaume. This piece has a fine transparent oil varnish of a bright golden yellow color. When used, it gives a sound that's bright, clear, open, and rich in overtones.
Appraised Price: P45,000.00
Everyone's main source of entertainment at home provides a significant amount of cash too. Example of this is the Samsung Smart TV. This television has incredible features, from its intuitive menu, as well as a quick access to one's favorite shows, apps, and games, which revolutionize the entire watching experience.
One Troy Ounce Gold
Appraised Price: P48,000.00
Gold items are popular collaterals at pawnshops. The troy ounce is the unit of imperial measure used to determine the mass of various precious metals, including gold.
However, gold spot prices vary at different times and locations around the world, thus knowing it is crucial in determining your bottom line. Nevertheless, the better the gold spot price is, the higher the premium price will be as well.
Tag Heuer Aquaracer Black Dial
Appraised Price: P58,000.00
Another luxury watch you can pawn, the Tag Heuer Aquaracer Black Dial is known as the ultimate watch for people with active lifestyles because of its advanced technology that offers reliability, utility, and ruggedness.
Omega Speedmaster Watch
Appraised Price: P60,000.00
Omega Watch Company's Speedmaster chronograph wristwatches have been around since 1957. From the "Moonwatch" model, which is the longest produced and widely known, as worn during the first American spacewalk, the line has included other models as well including analog-digital and automatic mechanical watches.
Diamond Ring 14k
Appraised Price: P103,082.00
While diamonds are a girl's best friend, it can be every guy's best friend too should the need for short-term cash arises. As a jewelry item, a diamond ring 14k can give you over a hundred thousand pesos. If Valentine's day is just around the corner, you can even pawn it a higher price.
Sarimanok Sculpture in Brass and Wood from Abdul M
Appraised Price: P212,721.00
If you're fond of art pieces, then you probably own this masterpiece by a native of Sulu, Abdulmari Asia Imao. The sarimanok sculpture was created by Abdul M to instill the Philippine Muslim art and culture in the consciousness of Filipinos.
Do you have other everyday items not included in the list? Who knows, you might be staring at a fortune right in your own home! Start your search now and have it pawned or get appraised at a trusted pawnshop such as PawnHero—the first online pawnshop in the Southeast Asia.
PawnHero caters to Filipinos with short-term cash necessities by providing an easy, fair, and convenient way of earning right at the comfort of their homes. Pawn your items now!